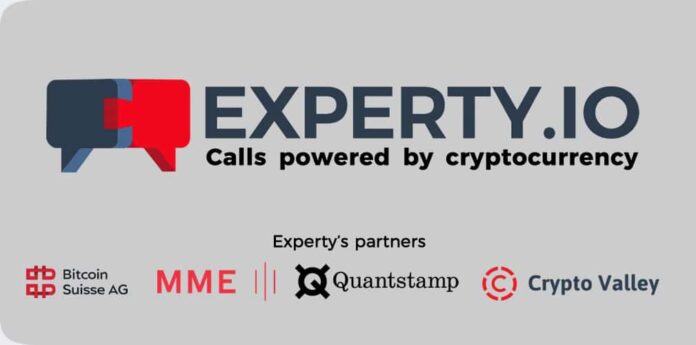 Note: Many want to find best reviews or opinions about the up and coming ICOs. So this is a full disclosure, my articles are NOT any form of advice or recommendation. This is me rolling it out to the best of my abilities for analysing the business. This post will be as neutral as possible with stating key points and facts about this Startup: Experty
Project Brief
Experty is the first Ethereum powered voice and video application which allows users to monetize their time, knowledge, and expertise on a global scale. The Ethereum blockchain allows for automatic payments from client to contractor based on the predetermined rate and the length of the conversation. Experts on any subject can share a link to their Experty profile on any platform they see fit, including but not limited to, social media, websites, and emails. There is no central marketplace.
Basically, it is an Ethereum based skype-like tool for professionals to earn while advising online, securely and efficiently.
The ICO
ICO Coin Name: EXY
Total Tokens: 100 000 000 EXY
Soft cap: 2000 ETH (Est.€510000)
Hard Cap: 5000 ETH (Est. €1273000)
Initial token rate: 1ETH / 1400 EXY (€300)
The Experty token will mainly be used for payment within their platform or applications. Unlike other ICO reviews, Experty is a straightforward application with no complicated multiple usages to its tokens.
Experty is using the ERC223 standard token as the basis of their tokens, which has extra features the ERC20 lacks like zero percent token transfer loss.
Team
The team are all based in Poland with no international team members. I personally believe in diversity and hope they do as well. There are eleven members who are mostly mobile developers with one female employee who is the Software QA. There are three founders KAMIL PRZEORSKI, TOM DYL and GREG KUCMIERZ. All the founders seem to have an engineering background and that is a very big plus.
One small disappointing setback is that there are Business professionals in the team, no Operations or community managers. It's not all about the beautiful tech, it's the success of the Startup.
They seem to have more Advisors than the team, depending on how they are utilised an overall decision making can be overwhelming. On a positive note, I found most had very high profiles and good professional background after researching their LinkedIn.
MVP
As far as the MVP (Minimal VIable Product) They have a video demo of the application on Android. I cannot see any indication that there is an actual app that I could physically use or demo myself. The rest of the white paper explains how the app works, which is nice. They do indicate that there will be an Android and Apple app available as alpha release end of 2017. The Beta release will be out the first quarter of 2018. All this is shown on their roadmap on the website.
The main idea of the concept is that Your knowledge provider and knowledge seeker agree on the payment schedule and Amount per minute beforehand. Once the contract is done the knowledge provider receives the money where it was saved as an escrow on the sidechain. If there was any dispute Experty will handle the issue and hold the amount until it is resolved.

Intellectual Property
The guys at Experty don't have anything listed on their website or the white paper on the intellectual property. My guess would be that their IP is programme the handles the voice call timer when it monetized by using their tokenised system.
Their Github account hasn't been very active. They do have a list of repositories but they're last activity was over 15 days ago. Here's a link below for more details:
Whitepaper
The white paper as well designed and there is a good explanation of how the tokens will work and how they will be distributed among the investors.  they also explain how the app will work well.  They also have there been listed but not enough info is written about them. A short bio on the core team can be very helpful.
Milestone
Most of its milestone is based on the product map. It is detailed enough with the roadmap on the website going back since 2014 When Their parent company React Poland was established. The roadmap indicates that they received a seed investment fund of $700,000. It goes bit more detail for 2018 when they start schedule in the product releases from mobile apps to web apps and then their desktop version by end of 2018.
Value Proposition
Their value proposition is mainly focused on consultants who are specialists in their industry is no matter where it is. They identified three types of clients the knowledge provided, knowledge seekers, and third party services.
Experty did indicate a potential route to market  Using API  utility to integrate with the likes of  LinkedIn, Github, Qoura.com and coursera.org 
Legal Entity
Experty is partnering with www.MME.ch for legal work. They also indicated that they will comply on a country by country basis. This includes legal and administrative costs regarding our product launch for European and US markets, as well as unbanked regions.
They have two offices one in Poland and in one in Zug, Switzerland. Here are the addresses:
Wieczorka 11/9
44-100 Gliwice, Poland
Baarerstrasse 14-16
6300 Zug, Switzerland
Website Quality
The Website is of high quality and it seems to have a custom built.  It is well designed and the user experience is easy-to-use. The website loads up quickly which indicates that they are on a European data centre.
The website seems to be hosted by Amazon AWS. That usually indicates the seriousness of their work And development process. They have a high-level SSL certification although free by Let's Encrypt and DST Root CA.
Social presence
Most of the team have working LinkedIn profiles. Here are some statistics on their social media during the post of this article:
Twitter (3534) not bad!, LinkedIn (1), Telegram (2822), Medium (38). All in all, the Medium blog is updated regularly and their Twitter followers are impressive enough. The company LinkedIn profile is virtually nonexistent which is not a good idea as it is a very important platform if they are targeting professionals as potential customers.
Bottom line
Team is heavy on the developers with very little business development knowledge pool. More activity on LinkedIn would be heavily highly advisable and their github activity is low which makes me wonder if they are actually working on the development of the platform or the apps. Maybe they are working separately on it and then will launch it once it's ready for alpha testing. This also need to work more on the business model From a validation point of you. There isn't much validation on the concept or testimonials from Influencers, users and professionals they are seeking to use their services. Something to seriously consider