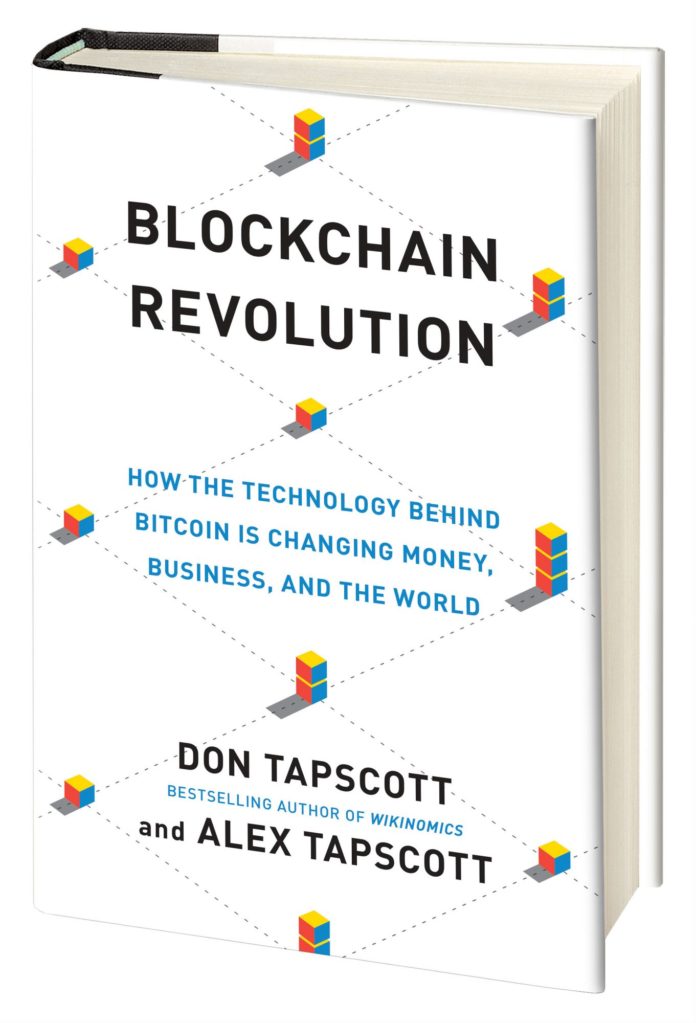 By @SimonCocking, review of Blockchain Revolution: How the Technology Behind Bitcoin Is Changing Money, Business, and the World, by Don Tapscott and Alex Tapscott available from Amazon here. 
Publisher's notes
Blockchain is the ingeniously simple, revolution­ary protocol that allows transactions to be simul­taneously anonymous and secure by maintaining a tamperproof public ledger of value. Though it's the technology that drives bitcoin and other digital cur­rencies, the underlying framework has the potential to go far beyond these and record virtually everything of value to humankind, from birth and death certifi­cates to insurance claims and even votes. 
Don Tapscott, the bestselling author of Wikinomics, and his son, blockchain expert Alex Tapscott, bring us a brilliantly researched, highly readable, and utterly foundational book about the future of the modern economy. Blockchain Revolution is the business leaders' playbook for the next decade and beyond.
Since coming out in 2016 this book has had a great impact, and continues to offer value and reward those who take the time to read this book. Written by the father and son combination, you gain the benefit of Don's insights from a long and successful career as a technology futurist writer and analyst, combined with Alex's experience at the bleeding edge of blockchain chain technology in particular.
With so much noise and hype around blockchain and ICOs at the moment, this book remains a relevant resource to have on your desk, or when listening to the latest ICO pitch, looking to solve x or y, and just looking for 1500 of your Ether to do so. To quickly get up to speed on the big picture value of blockchain business solutions this is a great book to have in your library, and it hasn't left our desk since we got it.
Speaking with Don, he explained that now is a time for existing businesses to adapt or die. "For today's leaders to survive and thrive in the next era of the internet, they must disrupt from within, rather than wait to be disrupted, and more importantly – think strategically and not just opportunistically. Don't focus on cost-savings with blockchain, but rather on growth opportunities. Ask yourself: how does this technology enable you to do the impossible?"
We were also fortunate enough to catch up with Alex in Madrid earlier this year at DES where we were both featured speakers. After the publication of this book, he and Don launched the Blockchain Research Institute to explore use-cases, implementation challenges, and recommendations for blockchain technologies. Alex explained "Over the last year, however (publishing the book), has produced more questions than answers. Over the next 18 months, the Blockchain Research Institute will seek to understand and provide answers to these questions – ultimately paving the way for business and government leaders to make some big changes."
Speaking with Alex illustrated that this is a fast-moving time, which both brings massive opportunities and also potential risks. The book is great entry point to this brave new world and still a useful read if you want to move into this space. You can also see more about Alex on our recent article 'Top 50 crypto experts to follow on Twitter'
This book also complements the other book we recently reviewed, Blockchain for Dummies. To see more about that review see here.
https://cryptocoin.news/2017/09/29/blockchain-dummies-tiana-laurence-reviewed/