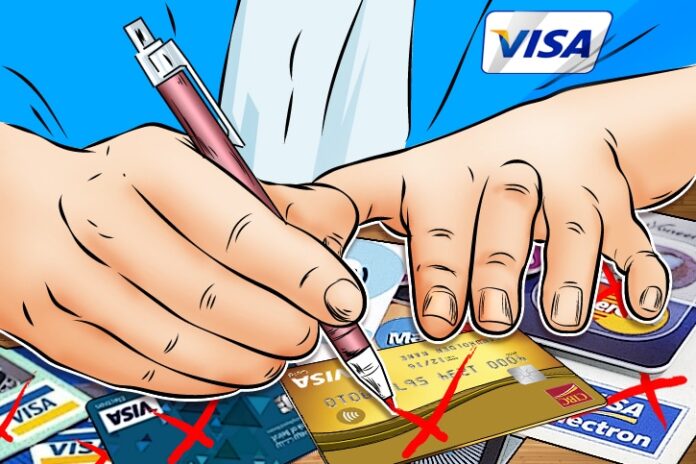 Thousands of users in Europe have been blocked their Visa prepaid cards with cryptocurrencies, mostly Bitcoin.
Suppliers such as Bitpay, Bitwala, Cryptopay, Wirex, TenX and Bitnovo have been notified by the card issuer that the service is suspended from last Friday, January 5 indefinitely. Visa has explained in an official comment the reasons for their decision where the problem is given by the Gibraltar company Xapo Wave Crest Holdings, Ltd, an intermediary company responsible for issuing the cards and which received instructions from Visa to cancel all the cards issued since the agreements established with Visa were not being respected.
"We can confirm that WaveCrest's Visa membership is being terminated due to continued non-compliance with our operating rules. All of WaveCrest's Visa card programmes will be closed as a result.
Visa has other approved card programmes that use fiat funds converted from cryptocurrency in a number of jurisdictions. The termination of WaveCrest's Visa membership does not affect these other products.
Visa is committed to the security of its ecosystem and compliance with Visa's operating rules is critical for ensuring the safety and integrity of the Visa payment system. Our issuers' card programmes must comply with our membership regulations, as well as all applicable laws".
Visa Europe.

The companies involved with the cards also announced that they are working to solve the problem and return funds to users. This kind of service would have allowed customers to spend their cryptocurrencies in traditional establishments, withdraw money at ATMs and make electronic transactions through a prepaid card issued by one of the main worldwide providers: Visa and MasterCard.
All companies involved with Visa prepaid card have warned to their users on Twitter about the situation:
Following an announcement from our card issuer on behalf of Visa Europe, Bitwala cards are taken out of operation starting today. Our team is holding an emergency meeting to resolve the issue with the card holders best interest in mind and will make an update shortly.

— Nuri (@NuriBanking) January 5, 2018
ADVICE: Following a communication from our card issuer WaveCrest, VISA cards are suspended immediately. We are working to offer you more details as soon as we have them.

— Bitnovo (@bitnovo) January 5, 2018
The BitPay Card is no longer available from our European card issuer Wave Crest Holdings, Ltd. Learn more and see what's next for the international BitPay Card: https://t.co/lI9wFpyPWx NOTE: BitPay Card users in the United States are unaffected by this change. pic.twitter.com/uns1GVcgWJ

— BitPay (@BitPay) January 5, 2018
#TenX advisory: Following an urgent communication from our card issuer WaveCrest, payments on the TenX card will be unavailable. We are working on a solution and will let you know further details as soon as we have them. We apologise for the inconvenience.

— TenX (@tenxwallet) January 5, 2018
On Reddit it can be found a discussion forum where several users came to report that their Visa cards, backed with their cryptocurrency,  had been denied doing any commercial operation.
Bitcoin funds are not lost.
Many of these Bitcoin payment cards are operated with the Visa WaveCrest provider, a company based in Gibraltar. WaveCrest e-mailed cardholders informing them that Visa had ordered all prepaid cards to be canceled: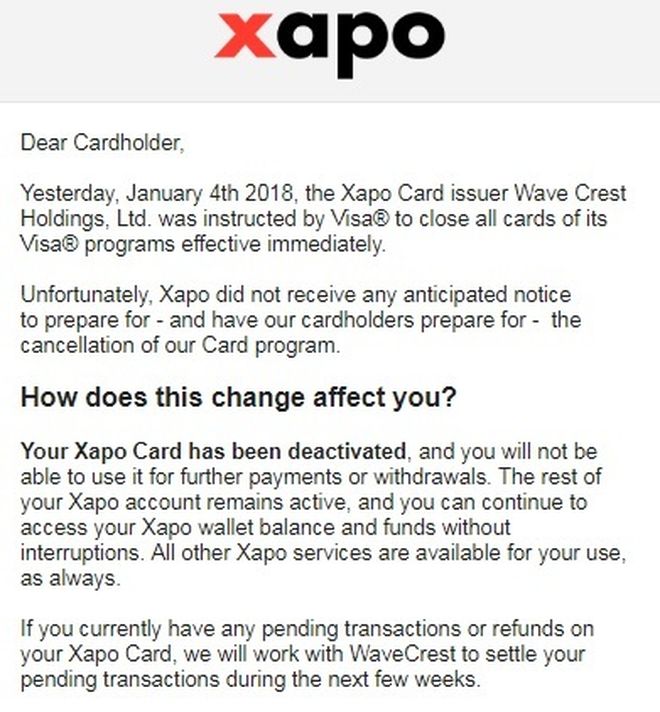 (Xapo email communication to all their active users about Visa canceled cards)
In practical terms, this does not mean that the users of these cards lose their cryptocurrencies, only that they will not be able to use their cards. Providers have reassured users that their funds are safe and that they will find a way to return them.
Web-users who value their financial freedom have long been wary of Visa. This is the company, after all, which facilitated the financial blockade of Wikileaks in 2011 and whatever the reason for the ban, this case illustrates something that bitcoiners have known for years: too much centralization is dangerous.