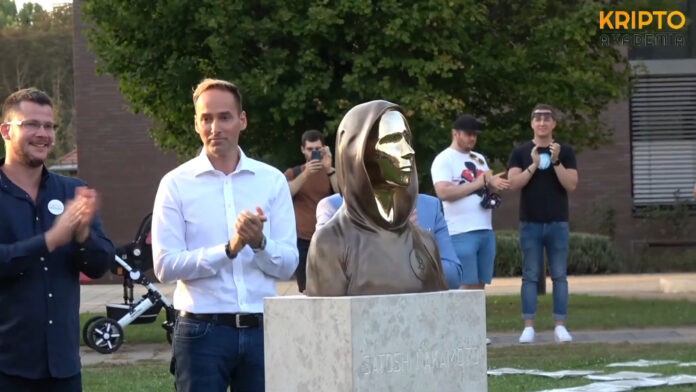 A bronze statue depicting the anonymous creator of Bitcoin, the first and leading cryptocurrency, has been unveiled in Budapest.
https://twitter.com/disclosetv/status/1438555193323495424
The world's first Nakamoto statue
"We are all Satoshi" proclaimed András Győrfi, who works as editor for the Hungarian crypto news website Kripto Akademia, as he tore the cover of a bronze bust depicting a man in a hoodie with a featureless face. This accounts for Nakamoto's anonymity, as the true identity of the Bitcoin creator still has not been found yet. Nakamoto published the famous Bitcoin whitepaper in 2008 through a cryptography mailing list.
The statue was created by the sculptors Gergely Réka and Tamás Gilly. Sponsors behind the statue are the exchange Mr. Coin, Kripto Akademia, the Blockchain Hungary Association, as well as Bitcoin and Blockchain Budapest.
Blockchain technology creates value, says statue co-sponsor
Before the statue was unveiled, the creators behind the project got the chance for a short speaking opportunity. András Győrfi was the first to took stage, commenting on his admiration for Satoshi Nakamoto:
Whoever he or she was, Bitcoin creates value, and especially the technology behind Bitcoin, blockchain, creates value.
Debreczeni Barnabás, CEO of the Hungarian crypto exchange Shinrai, stated that the statue is a symbol for dreaming big and making these dreams reality:
Satoshi Nakamoto has created an independent money free of any middlemen that empowered people with financial sovereignty. We have erected this statue to remind ourselves that courage is virtue.