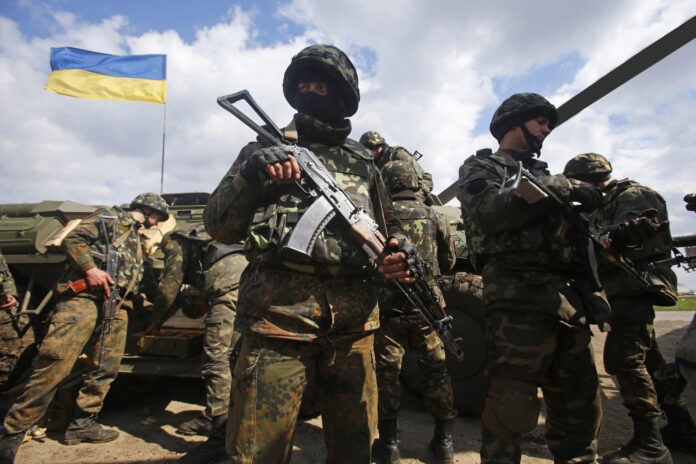 Russia's attack on Ukraine last night caused major turmoil for financial markets worldwide, which spilled over to crypto assets.
Ruble at all-time low
The tensions between Russia and Ukraine have escalated to an all-out war, as Russia launched an attack last night, including missile strikes and an invasion of ground forces into Ukrainian territory. 
The Russian Ruble has dropped by 6.3% to a historic low after Russia began its attacks on Ukraine. Russian stocks were affected the most, with the RTS index reporting a crash of almost 50% at its lowest point compared to its close two days earlier for a national holiday, aptly called Defender of the Fatherland Day. 
At the time of writing, the RTS is down 27.5% compared to the close. One of the most prominent stocks was Gazprom with a 24.0% drop. Earlier today, Gazprom announced that it will continue to export gas through pipelines in Ukraine.
The Russian central bank has announced a major quantitative easing program, stating to take all necessary measures to stabilize the economy. In a statement to Reuters, the bank said:
The Bank of Russia is keeping the development of the situation on the financial market under control and is ready to take all necessary measures to support financial stability.
EU to impose 'harshest sanctions ever'
In response to the invasion, both European countries and the US announced sanctions against Russia. European Commission President Ursula von der Leyen said that she plans to "freeze Russian assets in the European Union and stop the access of Russian banks to European financial markets". 
US president Joe Biden announced that he will impose harsh sanctions against Russia later today. Yesterday, the New York Times speculated that Russia might turn to crypto assets in order to circumvent some of the economic penalties. 
The war has also taken its toll on stock markets around the world, with the European Stoxx 600 index dipping 3.2%. The Nasdaq Composite dropped 2.6% and the S&P 500 lost 1.8%.
Crypto markets continue to nosedive
Crypto assets dropped sharply as well since Russia launched its attack at around 2 pm UTC. Bitcoin fell by 3.7% with most altcoins being affected heavily. Ethereum lost 8.8% and the total crypto market cap decreased by 6.5%. Due to inflation risks and sanctions against Russia, there is potential for a quick recovery though, if combat operations in Ukraine come to a timely end. 
Furthermore, the looming sanctions might prompt Russian citizens to adopt cryptocurrencies, both as investment vehicles and to safeguard their assets from their own government. In an interview with a NEWS.ru, Nikolai Arefiev, deputy of the Russian Communist Party, warned that Russian bank account holders, including Russian citizens, might be at risk of having their savings confiscated:
If all funds that are abroad are blocked, the government will have no choice but to seize all deposits of the population – somewhere in the region of 60 trillion rubles – to get out of the situation.