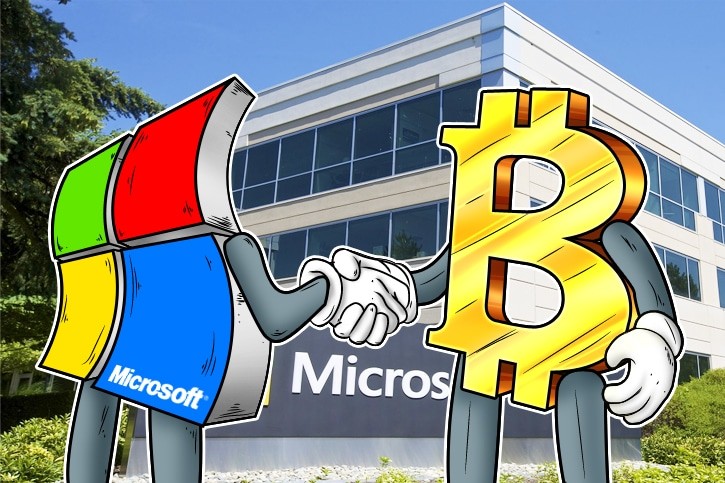 For a brief period, the multinational technology and computing company, Microsoft, suspended payment for their online store using Bitcoin. The service was temporarily suspended since on January 7, 2018 but it was activated again on January 10, 2018, thanks to an agreement in the price of the commissions negotiated with the team responsible for Bitpay, which is the platform payment that Microsoft uses for its transactions in Bitcoin.
According to the statement from its press office, Microsoft temporarily stopped all payments with Bitcoin due to various reasons:
The volatility of the price that was experienced at the end of December 2017 into January 2018.
The high fees caused by high transaction traffic in the blockchain, which could cost up to $30 per transaction.

The spam attack that occurred in that period.
Microsoft was one of the few that had decided to use cryptocurrency as a payment method back in 2014, using Bitpay platform as an intermediary to load funds into Microsoft accounts, so that people could buy applications, games, Operating Systems, Windows Phone, Xbox products, and other Microsoft products.
News that Microsoft had stopped using their famous cryptocurrency payment method was confirmed by a spokeswoman from the company. In a statement to news.com.au, it was confirmed that Bitcoin was indeed suspended as a payment method, but later on, she said the service had now been restored.
"We've restored bitcoin as a payment option in our store after working with our provider to ensure lower Bitcoin amounts would be redeemable by customers."
Microsoft Press Office.
Microsoft's support website has confirmed that the multinational continues to accept Bitcoins and includes a step-by-step to make payments in this way on their payment platform.

(How to add money to your Microsoft account with Bitcoin, source: Microsoft.com)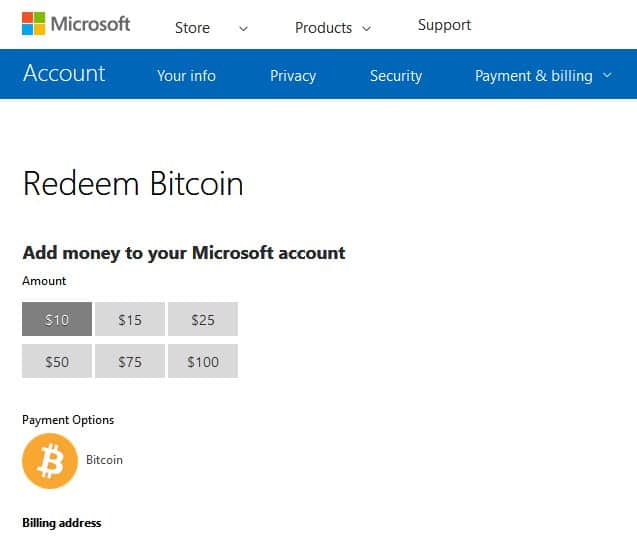 (Paying with Bitcoin through Microsoft online payment platform, source: Microsoft.com)
The big ones that accept Bitcoin:
Despite the current problems with Bitcoin scalability, the following companies number among those who continue to accept other cryptocurrencies:
DISH Network: The Satellite TV provider is the first in this sector to allow its customers to pay for the plans and services in cryptocurrencies. The initial announcement was made in 2014 when they partnered with Coinbase.
Dell: Bitcoin is well received in the technology sector, and Dell are one of the big-name participants. The computer company included Bitcoins as a payment method in January 2014, through a partnership with Coinbase.

Expedia: in tourism industry, Expedia is one of the most frequented websites to get discounts on flights, hotels and car rentals. It is considered the largest online travel agency in the world, and they, too, allow their users to make reservations with Bitcoin.
Overstock: is another partner of Coinbase that allows payments in Bitcoin to its online distribution platform. The form of payment was enabled since 2014.

Shopify: is one of the largest e-commerce platforms today, and allows its merchants to create their own online stores. Since November 2013, online stores operate under this platform with the option to include payments in Bitcoin.

(Shopify platform accepting Bitcoin, source: shopify.com)
Save the Children: This charitable organization works towards improving the quality of life for children worldwide, and they made the decision to include Bitcoin in their donation systems, through a personalized page in Bitpay.
Payments in Bitcoin and many other cryptocurrencies are beginning to be accepted in many e-commerce platforms. The number of companies and now charities that are taking Bitcoin, or some form of cryptocurrency, as a payment or donation method is increasing at a notable pace. Over time, this technology will become more affordable for all in the same way that FIAT money is handled today.