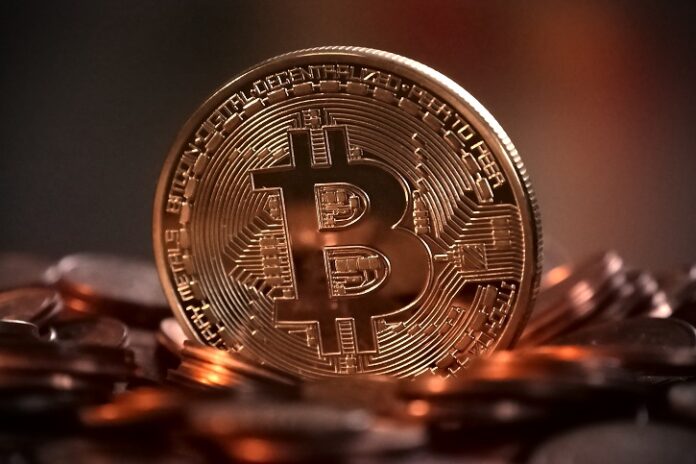 In the last few hours Bitcoin has made a full recovery from a two-month stagnation, en route to a unit price of $8,142 – the highest recorded since May 22nd.
May and June were tough months for Bitcoin and the crypto market in general, but the last two weeks have seen a huge turnaround. Total market volumes have doubled since early July, and BTC has grown over 30% since July 12th.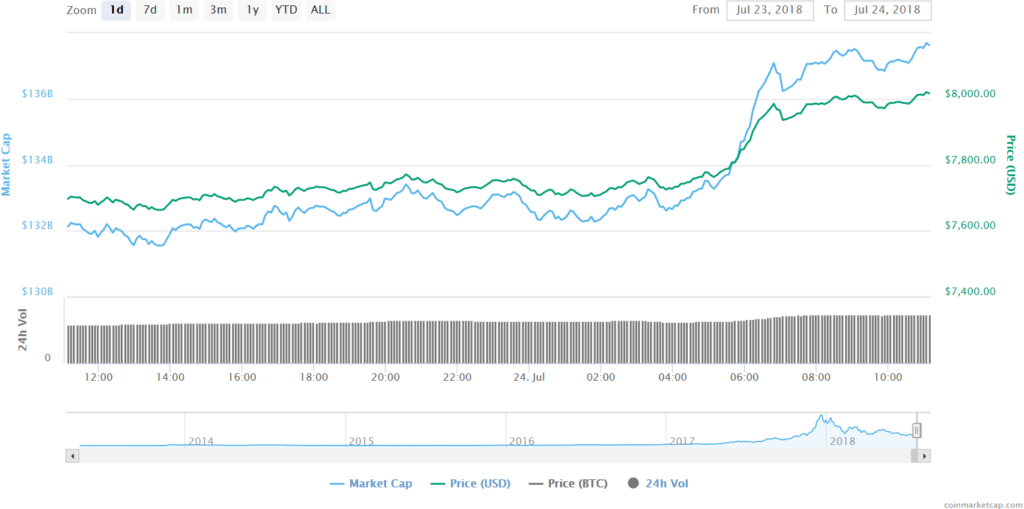 From a price of $7,664 late last night, Bitcoin has surged over 7% in the last few hours and continues to grow at the time of writing. Given the rate of growth in the last five minutes, don't be surprised if we see more fluctuation by the time it takes to read this article.
The last week alone has seen market gains of 20% for BTC, jumping from a price of $6,704 on July 17th. Daily volumes for Bitcoin have grown by around 65% in those seven days, and it is that surge which has pushed BTC beyond the majority of established altcoins in the same timeframe. Ethereum is only now starting to grow, having recorded 2.1% gains in the past day, but ultimately ETH has been vastly overshadowed by BTC in the recent past.
Exchange movements
The highest volume of the day's trades has come from the BTC/USD pair on Bitfinex, accounting for $370 million of the daily total. The next four most popular trades all come against Tether (USDT) on Binance, OKEx, ZB.COM and Huobi.
Interestingly, the actual highest volume of trades has not been counted in today's market readings owing to there being no trading fees. The BitMEX exchange saw $5 billion worth of trades between its BTC/USD pair, all of which have been excluded from CoinMarketCap's statistics. Likewise, $2 billion worth of trades came on FCoin which have also been excluded from statistics.
BTC's total daily volume is only $6 billion itself, meaning there has actually been twice as much market activity than what makes the rankings. However, fee-less trades must be excluded as they don't reflect the true market value of a given coin.
The Tether connection
Around 20% of the day's trades have come against USDT. Stablecoins like Tether are useful for day-traders as they act as a temporary safe haven from violent market fluctuations. When Bitcoin starts to dip, traders will convert their holdings to Tether. When they see Bitcoin start to rise again, they convert their Tether back to Bitcoin and reap the benefits of the growth surge. This way a trader can avoid mid and long-range market dips, without having to completely cash out their funds for fiat. Of course, such a system relies on the stability of the so-called stablecoins – a risk that many flat-out refuse to take.
Tether remains the most well-known stablecoin, but more are launching every month as their utility to those perched on the exchanges becomes apparent.