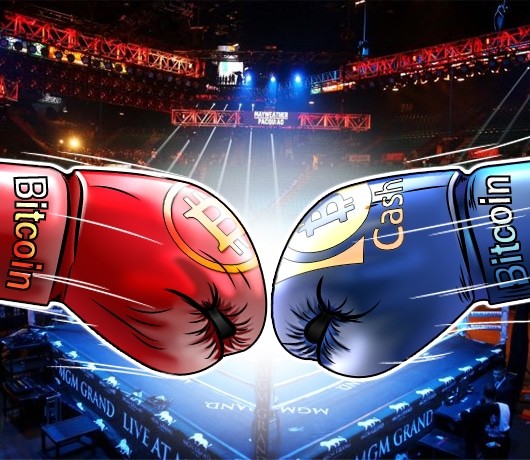 ViaBTC to feature Bitcoin Cash only pairs on crypto exchange
Chinese Bitcoin mining pool and crypto currency exchange ViaBTC has announced that it will only allow crypto currency trading to be traded against Bitcoin Cash (BCH) on its newly-migrated Coinex platform.
BCH-price Coinex, now based out of the UK, will be the first crypto currency exchange featuring a non-Bitcoin pairing.
The announcement will be seen as a step forward for alternative crypto currency BCH, which made its controversial appearance in August this year as the first major hard forking off the main Bitcoin network, an outcome of a widening rift in the Bitcoin community caused by disagreements on the scaling issues of Bitcoin.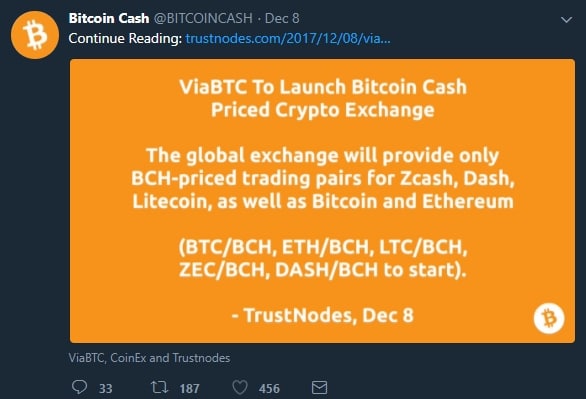 ViaBTC chief operating office, Sara Ouyhan said of the announcement:
"The reason we chose [Bitcoin Cash] over [Bitcoin] is that it has much faster transactions with low dees and better performance in terms of usability."
This move, however, has been a long time coming and should come as no surprise to observers, given that ViaBTC was one of the earliest proponents of BCH, having coined the term itself.
In the past few months, BCH advocates have been making moves for wider adoption and aggressive displacement of Bitcoin, trying to convince "legacy" Bitcoin users to choose a crypto currency that is cheaper and quicker to transact. Of late, Bitcoin's network congestion issues have appeared to help their cause, with notable merchants such as Steam now abandoning Bitcoin in a rumored preference of Bitcoin Cash.
And now, traders can look forward to selling and buying crypto currencies with BCH on Coinex, with trading pairs including BCH/LTC, BTC/ETH, BTC/DASH, BTC/ZEC, and BCH/BTC.
BCH was originally referred to as a "contingency plan" by some members of the Bitcoin community, most notably Bitcoin mining company Bitmain, believing that the commitment to gain hard fork consensus to increase the block size of Bitcoin after first implementing Segregrated Witness – the so-called SegWit2x hard fork – would not be met. They would later turn out to be correct, as plans for SegWit2 were dropped in November.
Tokyo-based SBI Group, one of Japan's largest business and financial groups, openly stated its support of BCH, saying that it could be "used globally for daily payments".