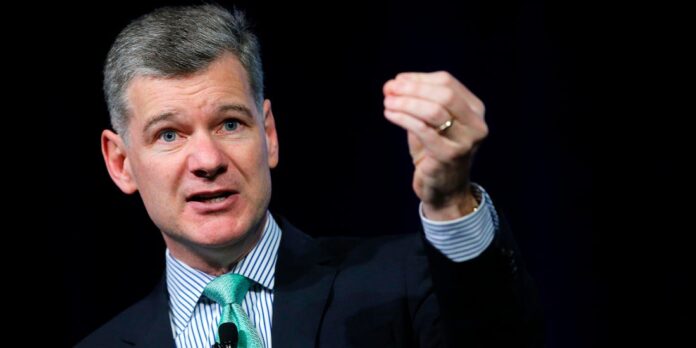 Morgan Creek Capital Management CEO, Mark Yusko, believes bitcoin should make up a portion of every investment portfolio
Bitcoin will likely disrupt the banking system just as the internet disrupted traditional information channels
According to interviewer Max Keiser, the U.S. dollar is on its last legs and will likely be dethroned by bitcoin
Hedge fund manager Mark Yusko has long been a bitcoin bull. The head honcho of Morgan Creek Capital Management was seen on the latest episode of the popular Keiser Report strongly advocating in favor of the leading cryptocurrency.
So much so that Yusko argued that even core social investments should have some exposure to this new asset class:
"[bitcoin] is one of the most asymmetric assets I've ever seen in my career. So the idea that ten years from now we won't look back and say as a fiduciary of a pension fund, sovereign wealth, family office you had to have exposure to this asset is crazy."
The specific quote can be found at 13:20.
Yusko to Banks: Prepare to be Disrupted
The conversation veered off in several directions but among the more notable points of interest was the inevitable disruption facing the traditional banking system.
Yusko made reference to Berkshire Hathaway vice chairman Charlie Munger who once notoriously claimed that cryptocurrency trading is akin to trading in freshly harvested baby brains.
Munger, along with his highly-acclaimed billionaire colleague Warren Buffett has repeatedly trashed bitcoin in favor of more conventional investments.
Yusko points out though that the smartest investors have always piled into technology and come out the richer:
"Investing in technology, investing in innovation has always been the path to long-term alpha. Look at the best investors in the world. They overweight innovation and get alpha."
Just as the internet disrupted television, radio, and the newspaper business so will bitcoin disrupt the banking business.
Bitcoin: Dethroning the Dollar
If you've watched any episode of the Keiser Report you'll know that Max Keiser staunchly defends bitcoin over fiat dollars.
Indeed this latest episode of his show is titled 'Dethroning the Dollar'. It echoes his theory that the flagship cryptocurrency will inevitably take down the world's reserve currency.
Good episode on weaponizing the dollar: "Bitcoin will be held by central banks…You can't sanction a country if the alternative is they can transfer their bolivars (or whatever) into bitcoin. Unconfiscatable." –@MarkYusko https://t.co/8myL51Koap via @maxkeiser

— Jon Matonis (@jonmatonis) January 30, 2020
The Economist Magazine recently dedicated a lengthy piece on America's aggressive sanctions and how that policy is endangering its own currency.
For the first time in history, countries have the ability to navigate around these sanctions, something Keiser describes as "an act of war". In many respects he's right. Essentials like food and medicine should arguably never be sanctioned.
Bitcoin sits just shy of $9,500 currently and if the price action this decade resembles anything like the last, then Yusko is 100% correct: any fiduciary worth his salt should at least have some exposure to the future of money.
Feature image courtesy of RT YouTube.