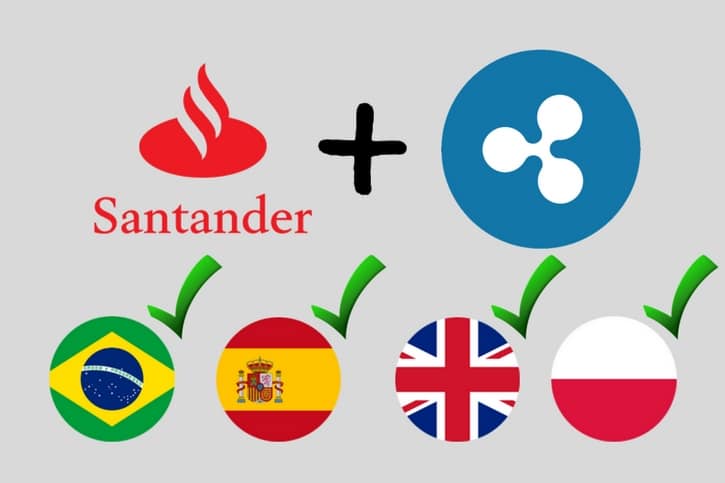 Through an announcement made on January 31st 2018, the president of Santander bank, Ana Patricia Botin, revealed that the bank plans to launch in April 2018 an application that could be called Santander Pay, consisting of a payment platform for international clients.
The application will use the Ripple blockchain, the rival technology to Bitcoin, and once Santander begins the distribution of this application, clients can make international transfers between those countries where the bank is operational. For Q1 of 2018, they plan to implement this application for the countries which represents their biggest market: the United Kingdom, Spain, Brazil and Poland, which represent a volume of international payments at around €10 billion, according to the Santander 2017 earning presentation. In October 2015, Santander Innoventures invested $4 million in Ripple and this application. During the official presentation, Botin announced that this new initiative would accelerate the digital transformation of the bank through alliances with technology companies that are worldwide pioneers in certain financial solutions, which provide flexibility, agility, and disruptive technology.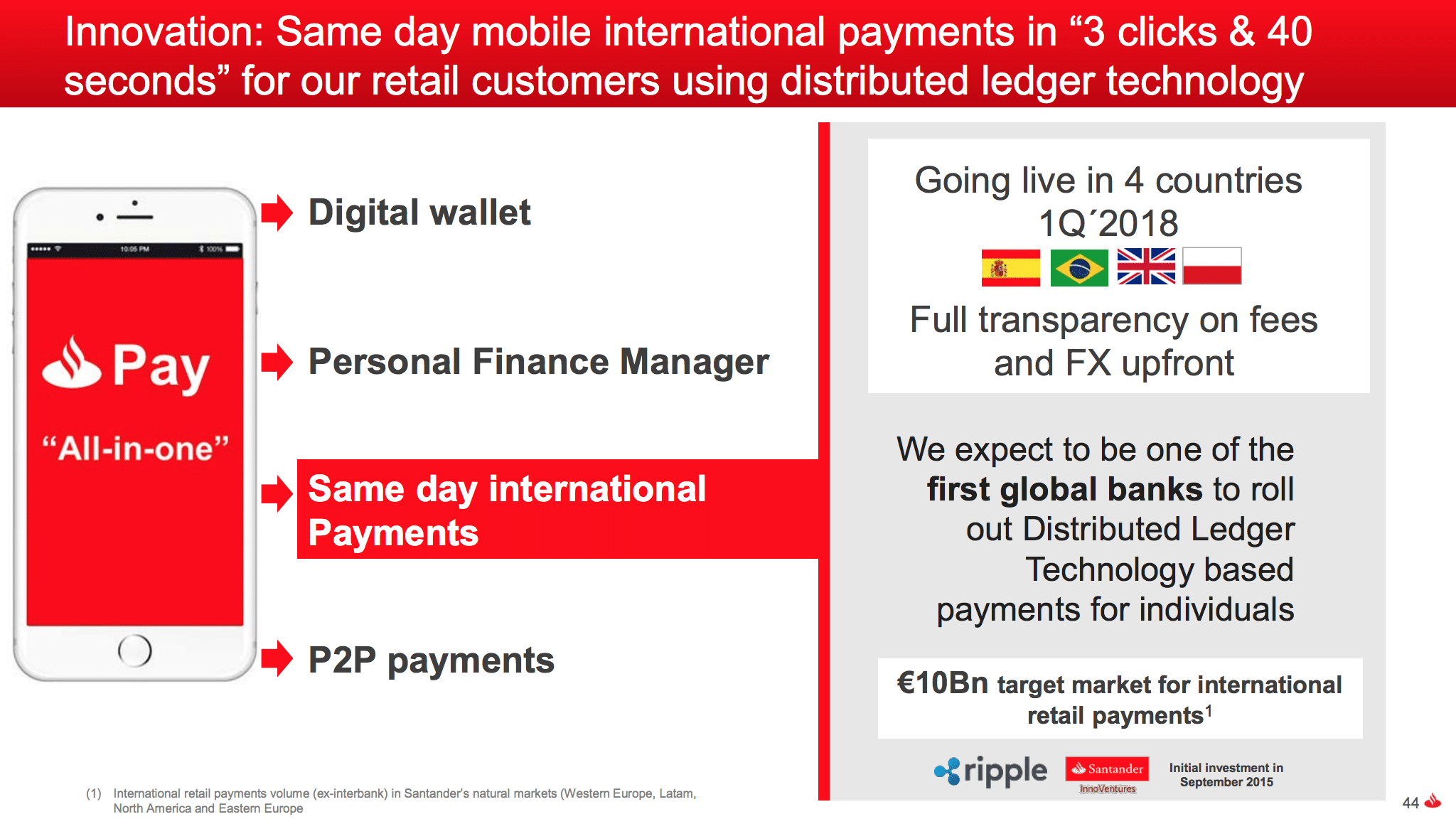 (Santander Pay – Same day international Payments, source: santander.com)
BaaS: Bank as a Service
With this application and technology, it will be possible to send money on the same day, while providing a high level of transparency and real-time monitoring. The application promises to make payments with just three clicks with a duration of 40 seconds. This could see the death of the consortium Swift, created in the 1970s for communication between banks, and which has become a source of problems for banking due to the slow  process and bad customer experience. Additionally, it sets an expiration date for the banks' commissions practices from transactions; one of its main sources of income at present. According to Botín, this new movement will provide "total transparency in commissions and exchange rates prior to the transaction".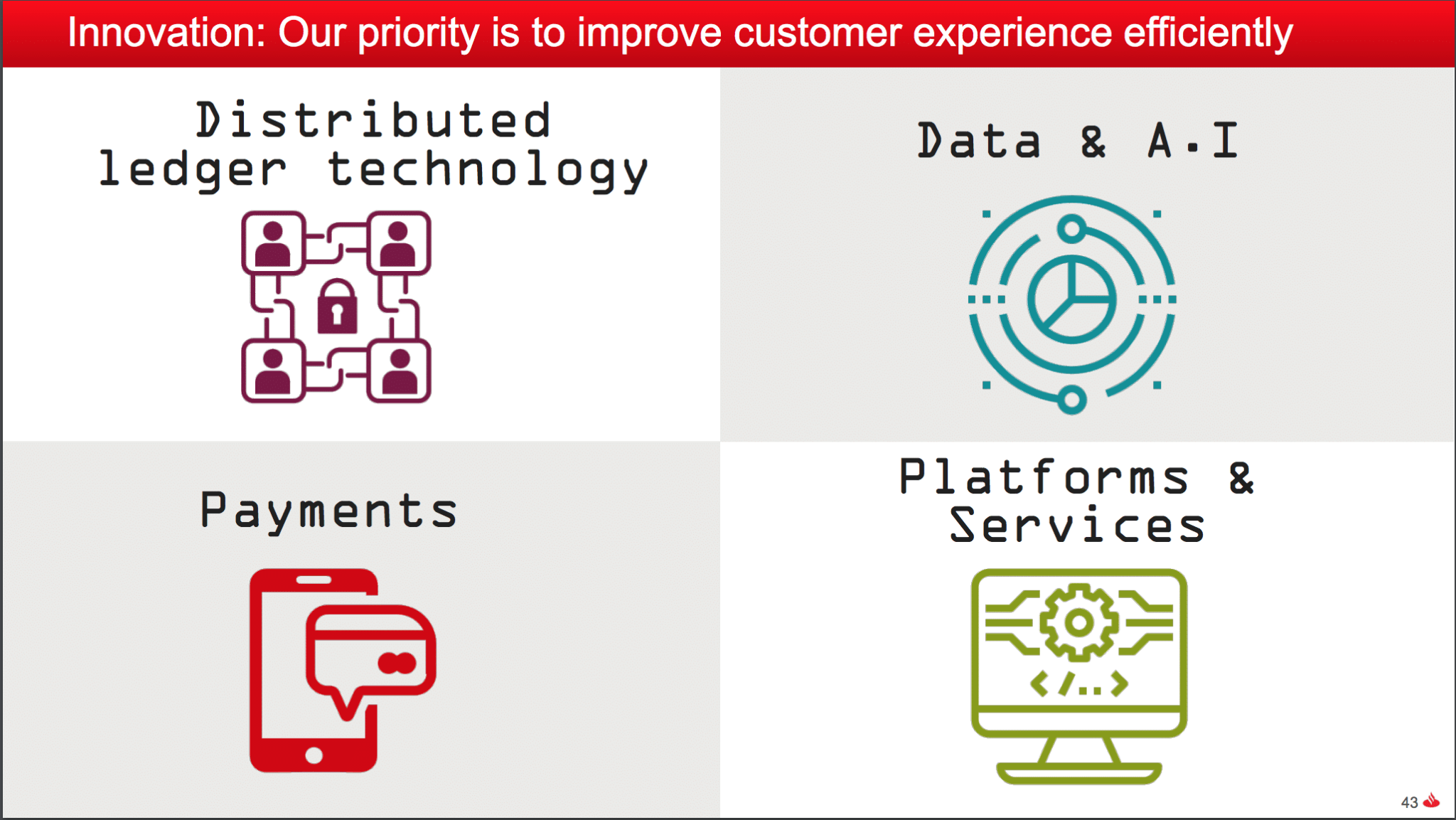 (Santander bank innovation priorities, source: santander.com)

Ripple: the darling of the banks.
Ripple (Symbol: XRP) is considered the cryptocurrency of banks. It is a virtual system of payments in real time based on blockchain technology and designed to be used by financial institutions as a faster and cheaper alternative to their traditional backup systems. It allows them to send and receive money and settle transactions at a speed of between 5 and 10 seconds (much faster than Bitcoin). In addition, it allows the conversion between different currencies and cryptocurrencies. Other important differences compared to Bitcoin: this is a centralized cryptocurrency, does not offer the same level of privacy, was pre-mined, the founder retains 20% of the Ripple, the company still retains more than 50% of Ripple, and its circulation is of 100 billion.
This is just another of the steps that Santander has been taking to scale in the world of innovations and technology. For the moment, the bank has invested at least €2 billion in innovation in 2017. Botín has given assurances the company is in a strong position to carry out projects of this caliber. In addition, they already have a high level of credibility, support, and trust among all the users that rely on their services around the world.