By Aziz Bin Zainuddin, Founder & Chief Crypto Officer of Master The Crypto.
Etherdelta is the most popular decentralized exchange in the cryptocurrency market. There are more than 241 coins and tokens being traded there, and all of the coins are compliant to Ethereum token standard called 'ERC20'.
Why Should You Trade in Etherdelta?
The majority of ERC20 coins that just finished their Initial Coin Offering (ICO) would be first listed on Etherdelta before being listed on other major exchanges like Bittrex or Binance. It is a fact that once coins get listed on big and centralized exchanges, their prices will tend to spike upwards. Therefore, this allows you to invest in the coin earlier than the crypto mass market, possibly reaping higher gains.
However, Etherdelta can be intimidating for beginners due to its complex interface.
How Do I Trade?
Step 1: Create an Etherdelta Account
The first step is creating a wallet within Etherdelta. Go to the "Select Account" section and click on "New Account".  

A pop-up will appear, detailing your new Etherdelta wallet's public key and private keys.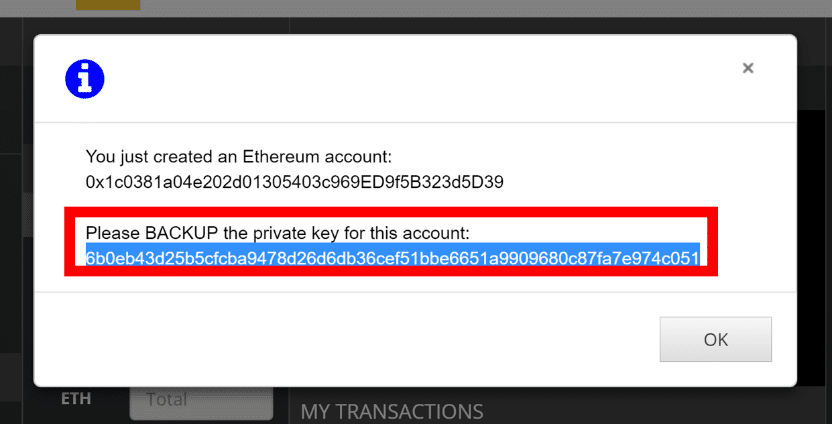 There are two long strings of alpha numerals:
Public Key: The first string of alpha numerals represents your Etherdelta public key or public address
Private Key: The second (and longer) string of alpha numerals represents your private key
Be sure to keep your private key secure, as losing your private keys means losing your funds. Here are ways that you can secure your private keys:
Write it down manually onto a piece of paper and store it somewhere safe

Copy it online into wordpad/notepad and save the document in your thumbdrive
Step 2: Transfer Your Ethereum (ETH) to Your Etherdelta Public Address
The most common Ethereum/ERC20 wallet is MyEtherWallet (MEW), which is free. Here's a guide to opening a MEW wallet to get you started. Assuming that you're using MEW, send the amount of ETH that you want to trade with from your MEW wallet to your Etherdelta public address. It's vital to verify each transaction when transferring your tokens through the blockchain.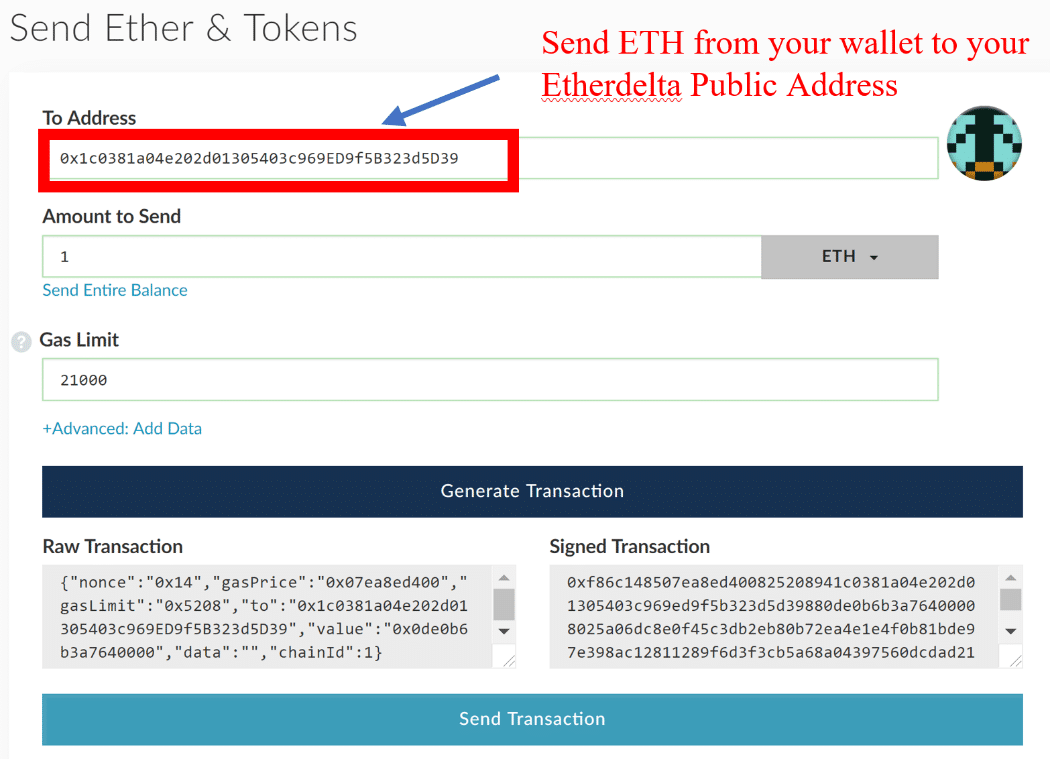 Step 3: Choose the Token You Want to Buy/Sell
Select the token that you want to trade from the drop-down menu at the top of the website.
Step 4: transferring funds from your Etherdelta Wallet to the Etherdelta Smart Contract
Etherdelta is decentralized and, therefore, it uses smart contracts to execute your trades. In the 'Balance' section, you'd see 3 columns:
Wallet:

This is the balance that you have in your personal Etherdelta wallet

Etherdelta:

This is the smart contract that you'll use to create buy and sell orders
In order to start buying a coin, you have to transfer ETH from your Etherdelta wallet to the Etherdelta smart contract. Click on the 'Deposit' column and enter the amount of ETH that you want to deposit into the smart contract to start buying the token of your choice.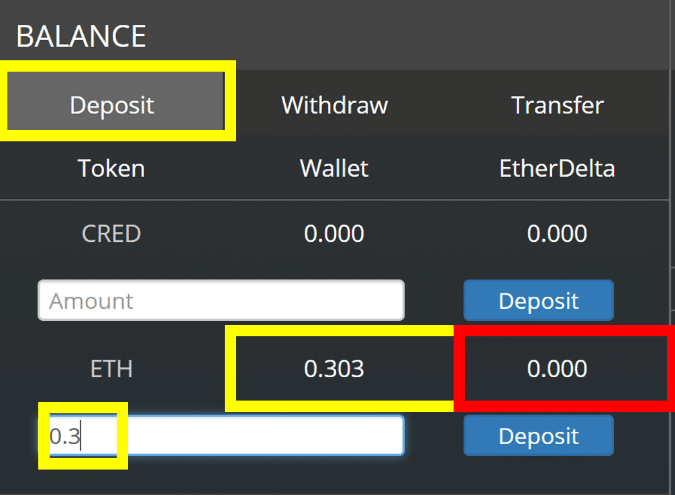 As you can see, I'm going to transfer 0.3 ETH from my wallet (yellow box) to the smart contract (red box). Don't transfer all of your ETH as you need a little left to pay for the cost of executing the transaction, which will be deducted from your wallet. Once you're done, click on the 'Deposit' button.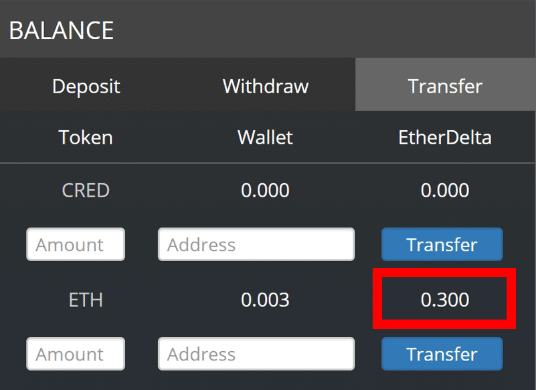 Once the transaction is successful, you'd see that the 'Etherdelta' column (which represents the smart contract) will be credited with the amount of ETH you will use to buy the token of your choice (in this case it is 0.3 ETH). You can now trade!
Step 5: Execute Buy/Sell Orders
There are 2 ways that you can execute your orders:
If you're planning to buy, you can create a new order by manually filling up how many coins you want to buy, at what price, and the total ETH that will be used. If you're planning to sell, input the amount of coins you want to sell, at what price, and the total ETH that you will receive. 

Once you've done that, your order will be shown in the order book under 'Buy Orders' if you plan on buying, or 'Sell Orders' if you plan on selling. This could be very tricky and should only be used by those who know what they're doing and had prior experience before.

The easiest way is to directly buy/sell from existing orders in the order book, which was manually created by those that want to buy/sell their tokens.
Step 6: withdrawing the tokens to your Etherdelta Wallet
Now that you've executed your trades, it's time to withdraw your coins to your Etherdelta wallet. In the 'Balance' section of Etherdelta, click on the 'Withdraw' tab. Deposit all your coins in Etherdelta's smart contracts to your Etherdelta wallet by clicking the 'Deposit' button.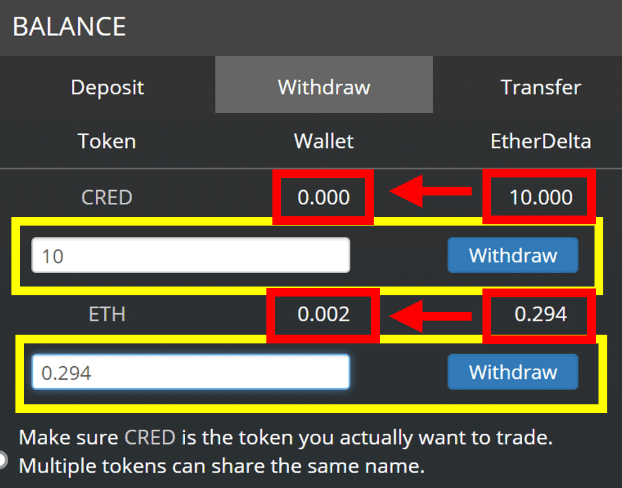 Last Step: transferring funds from your Etherdelta Wallet to your Personal Wallet
The last step entails transferring all the tokens in your Etherdelta wallet to your personal wallet. Go to the 'Transfer' column under your 'Balance' section and:
Specify the quantity of tokens that you want to transfer out of Etherdelta

Specify your personal wallet address in the 'Address' field where your tokens will go to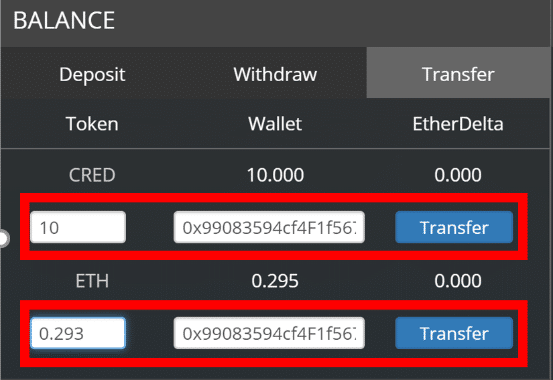 In this case, I'm transferring 10 CRED and 0.293 ETH out of Etherdelta and into my personal wallet. I purposely left a little ETH (I've got 0.295 ETH but withdrew 0.293 ETH) to pay for gas fees. Here's a more detailed guide to navigating through Etherdelta exchange.
Good Luck & Stay Safe!