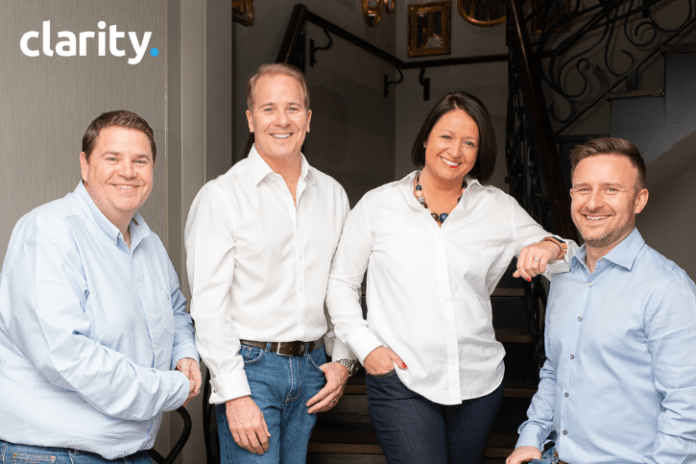 Today is the day! Clarity, THE global business advisory platform for small business owners is launching its PRE Initial Coin Offering (ICO). Clarity are building THE global business advisory platform for small business owners. By using the power of both artificial intelligence and blockchain, Clarity will allow the 163 million small businesses around the world to take back control of their data, boosting their growth and helping them achieve their full potential. The platform will help them understand their numbers, how to make better decisions, build a better business and access the cash, finance, and investment they desperately need.
To achieve this goal, Clarity is issuing 240 million CLRTY tokens and selling 120 million tokens to the public that can be used to purchase services from the Clarity platform. As for the token distribution, 75% will go into the Token Public Sale, 5% for the Founders 5%, 10% for Strategic Partners, 3.8% for Liquidity, 5.2% for Advisors and 1% for Team Incentives.
With a two-stage pre-sale structure, Clarity will reward those who purchase early in the pre-sale, ensuring future demand for the CLRTY token through the mass global market of small business owners. Those who whitelist on clarityproject.io will receive 2500 CLTRY / 1 ETH in round one, which drops to 1500 CLTRY / 1 ETH in round two. The general public Token Sale will start after the public pre-sale, selling 80,000,000 CLRTY tokens at a starting rate of 1000 CLRTY / 1 ETH. The currencies accepted will be Ether (ETH), Bitcoin (BTC), Litecoin (LTC) and Bitcoin Cash (BCH).
To take part on the ICO, you need to complete the Know Your Customer (KYC) and Whitelist process. Furthermore, China and South Korea are restricted from and if you are an U.S. Citizens, you need to be an "Accredited Investors" in accordance to U.S. law.
The small business market is colossal and small business owners desperately need a platform like Clarity. There are massive bonuses and rewards for getting in early. Every token holder will receive a unique referral link and will get a 15% bonus for every token purchased using that link. And when Clarity goes live, each CLRTY token will have a minimum price of $2 on our platform. In addition, every token holder has the great opportunity to make the most of any undervalued Ether in today's current crypto market.
There is no question that data is today's gold. This platform will give every small business owner around the world clarity in their numbers, control over their data and the stepping stones to a successful business. To join the ICO just visit Clarity website.