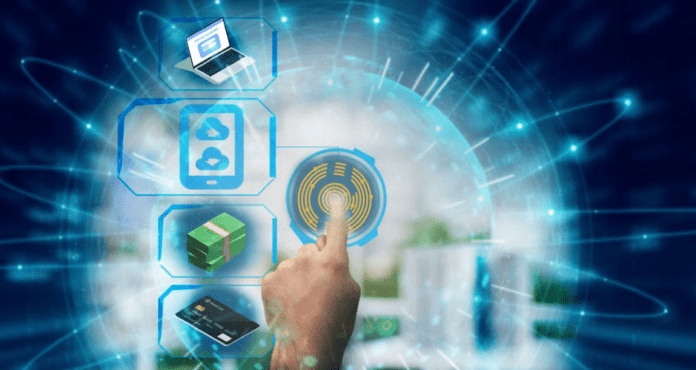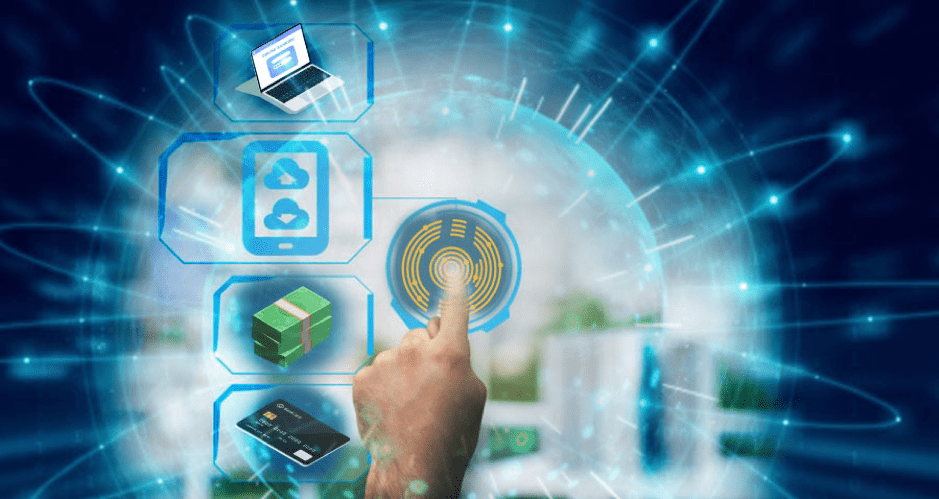 A Look Inside Counos Escrow
Counos Escrow System is a financial crypto service wherein a trusted third party keeps the payment of a transaction made between two parties (Using Multi signatures Wallet technology). Counos Escrow is managed and operated by the exchange company Counos OÜ, which is registered in the country of Estonia and has acquired all the necessary permits and license for operation.
Providing a virtual currency wallet service License No. FRK000735
Providing services of exchanging a virtual currency against a fiat currency
Counos Escrow is a very valuable Crypto escrow particularly when dealing with a lot of money. For example, when users want to sell their goods or services but are hesitant to deliver before being sure that the payment is made, and on the other hand, when users want to buy goods or services and are also hesitant to make the payment before making sure of deliverance. Through the Multi Signatures Wallet technology, Counos Escrow and online payment services which are offered by Counos Platform and accepted cryptocurrencies such as Bitcoin, Counos Coin (CCA), Counos X (CCXX), … guarantee the safety and security of online trades.
The services offered by Counos Escrow can be used for high volume peer-to-peer cryptocurrency deals, Bitcoin OTC, real estate, and basically any kind of financial deal.
With the help of Counos Escrow transactions can be made in a safe and secure manner with no risk of fraud. You can complete safe and secure payments with your coins (cryptocurrencies) using Counos Payment Gateway. While making the payment, Counos Escrow will not disburse any funds (held in Multi signatures Wallet) unless both buyer and seller are fully satisfied.
Crypto escrow is considered the most secure method of payment with no risk of fraud and scam. All the crypto that is transferred with Counos Escrow are kept in a secure Multi signatures Wallet which has 3 private Keyes one for Buyer, one Seller, and one for Escrow Agent. This whole process happens with the help of escrow agents. You can use this service with assurance of safety and security for your commercial trades, use cryptocurrencies supported by Counos Escrow to make complete transaction and payments, and complete your contract overseen by agents.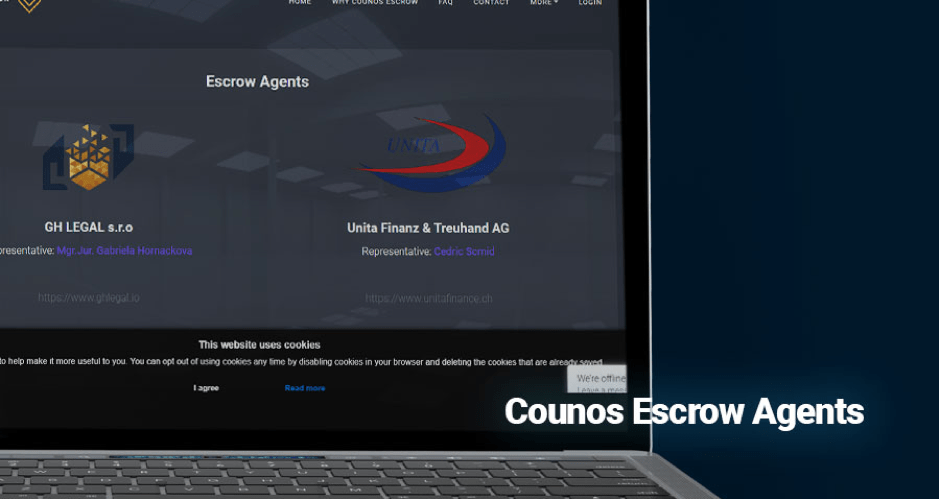 Counos Escrow Agents
Counos Escrow has individual agents who are responsible for overseeing and observing the accurate completion of a contract. These individual agents are comprised of legal firms and attorneys. One of the escrow agents of this crypto escrow is the Counos Escrow Company itself, having a legal license for exchange and wallet. Among other escrow agents are the official EU registered law firm Gh Legal S.R.O, and Cedric Scmid, official attorney at law in Switzerland.
Don't forget you can also use Counos Escrow to purchase anything from anywhere in the world and make payments
For example, if you live in Germany and order a carpet from Turkey, you can use Counos Escrow Service and pay with Counos X to purchase what you want. The seller then sees the payment already made and can safely send the carpet to Germany. He can then change the received Counos X to Turkish Lira or Euros or keep the Counos X and benefit from the 5% annual return.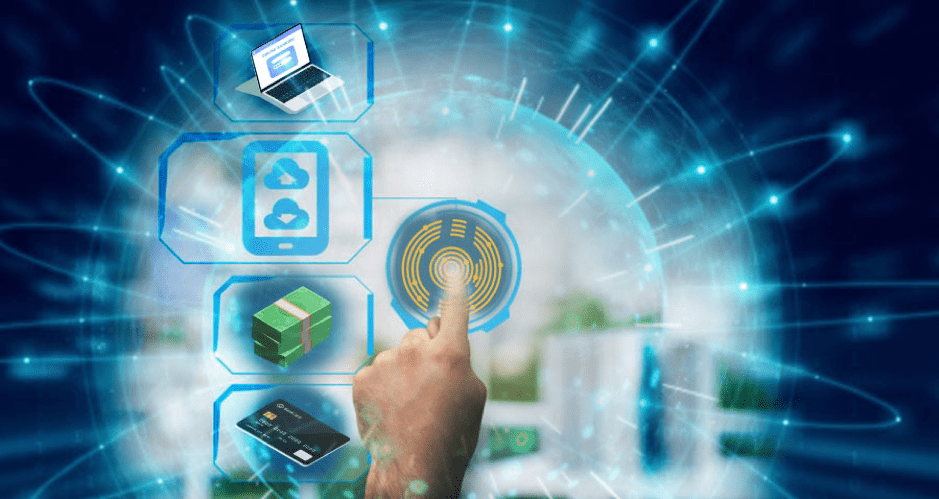 How to Work with Counos Escrow?
To give you a proper explanation on how Counos Crypto Escrow works, let us consider that you want to hire a website designer and you intend you pay him in Bitcoin. You cannot just find someone online and transfer the Bitcoin to him without being sure if he is a good website designer or even if he will complete the task that is required. And the other party, the website designer in this case, cannot trust you enough to start the work without being paid anything upfront or in advance, being assured that he will be paid when he delivers the project accurately and completely. This is where a Crypto escrow can be very beneficial. You can use Counos escrow to do this.
First, you go to Counos escrow website and create an account and get your full KYC . After signing in to Counos escrow you can go ahead and create a contract, a smart contract. Then you are able to pick a name for it and set all the terms of the contact. You specify all the things you want the website designer to do. Also, you specify that you want to pay with Bitcoin. For example you want to pay 0.4 Bitcoin for this job. You can create all of that detail and you can also create some instalments known as milestones. Then your contract is completed. After that you take a look at it to make sure everything is exactly as you want them. You enter the email of the other party, in this case the website designer you want to hire and start a contract with. You will also choose an escrow agent who will oversee the proper and legal completion of the contract.
After you approve the contract created, Counos escrow will send an email to the other party, which is the email address that you provided previously. It is okay if they are not a member of Counos Escrow. Because this contract invitation email will also include an invitation for them to create an account and do KYC in Counos Platform. After the other party accepts the invitation and enters the smart contract on Counos escrow, he can see all the details of the contract and the project. After the other party accepts the contract created, then the contract agent to approve and then the contract will get started.
When the contract is approved by all the three parties, the buyer, the seller, and the escrow agent, then for example in this case the website designer who is selling his services will start working because he is assured that he will get paid. You as the buyer, buying the services of a website designer, will also be assured that your project will be done properly. But where does all this reassurance come from?
The assets present in any contract in Counos escrow are held in a wallet known as the multi signature wallet or the MultiSig wallet. The buyer, the seller, and the escrow agent all have a key to this wallet and it cannot be accessed by one person. In order to withdraw from this wallet, two parties need to approve it.
Therefore all sides of a Crypto escrow contract can be sure that they will receive the assets or services they are entitled to. In the example above, the buyer will be sure that his project will be delivered as promised, and the website designer can be sure that when he delivers the project he will be fully paid. All of this process is done with the help of Crypto escrow and the escrow agent. So leave the security of your assets to Counos Escrow!