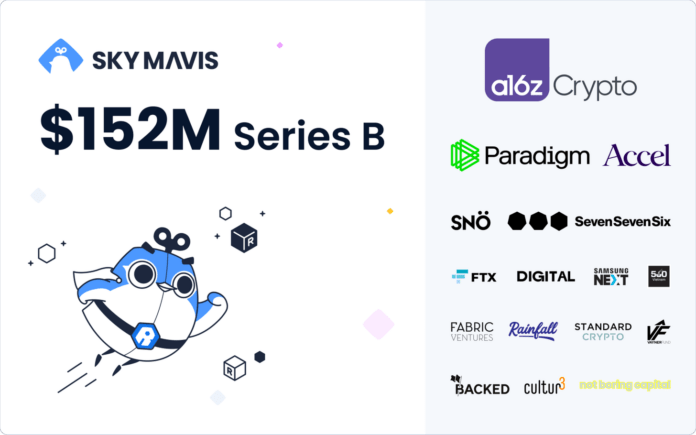 Sky Mavis, the company behind the legendary NFT game Axie Infinity, announced earlier today on Oct 5 that their Series B funding round has come to a close.
We've raised a $152 M Series B led by @a16z for @SkyMavisHQ!

✨The funds will be used to fuel the expansion of Axie Infinity and Ronin, our scaling solution for digital nations.https://t.co/5vRXmHarlp

— Axie Infinity🦇🔊 #AxieOrigins (@AxieInfinity) October 5, 2021
A top-notch line-up of VC and angel investors including Andreessen Horowitz, Accel, Fabric Ventures and Paradigm plowed money into the future of the platform. Sky Mavis revealed that the funds will go towards creating economic freedom for gamers.
Axie Infinity has been on the headlines for a few days now owing to the launch of AXS staking. A total of 13,224,072 AXS tokens are locked in with an estimated 178% APR as of now. AXS token hit an all-time high on October 4 at $154.45.
Axie Infinity is one of the largest NFT projects to date.
Ambitious initiatives in the pipeline
As a decentralized project, Axie Infinity's fundamental values lie in co-creation, co-ownership, and incentivization. It reimagines a gaming ecosystem where gamers, developers, and the community can coexist and drive the growth of the platform together. The new funding will blur the line between work and play through a variety of forward-looking initiatives.
It will be used to pool talent from around the world, scale the gaming infrastructure in line with the projected growth, build distribution platforms for developers, and expedite the development of Ronin DEX. In addition to that, the funds will allow the team to focus on the development of Project K (a land-based game) and Axie Infinity: Origin, an upgraded battle system.
Wrapping up
Launched in March 2018,  Axie Infinity has journeyed an unprecedented track of growth in the gaming industry, especially in 2021. Early in April, the platform had just 38,000 daily active players. It stands at two million today.
While the project has been remarkably successful with AXS tokens and Axies topping the charts, additional investments will enable it to expand the reach and reinforce legitimacy in terms of regulatory protection without falling back on AXS token reserves.
"With Axie Infinity, Sky Mavis isn't just breaking incredible records, it's powering a blockchain gaming revolution! The journey's just beginning," tweeted Accel in response to the news.