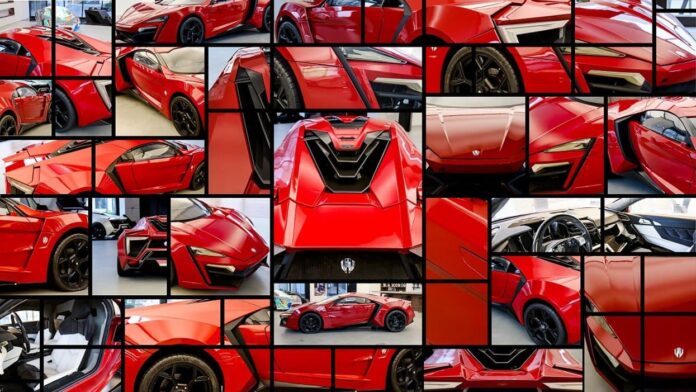 W Motor's iconic Lykan HyperSport, which was featured in the movie Fast & Furious 7, is currently on auction as an NFT. The winning bidder will receive the physical in addition to the non-fungible token.
Hollywood meets #NFT , for the first time!
Only Surviving @LykanHypersport Stunt Car From F&F 7 To Be Auctioned. https://t.co/fL5n1U4nCW

— RubiX Network (@rubixnetworkinc) May 6, 2021
Bids could be as high as three million USD
For Fast & Furious 7, the Dubai-based supercar manufacturer W Motor delivered 10 custom-built copies of their first model, the Lykan HyperSport. Out of these, only one stunt car survived the film shooting as is now being auctioned via Rubix.
Pre-bidding is already open with a minimum bid of 100,000 USD, but the NFT marketplace estimates that the final price will be in a range between 750,000 USD and 2,500,000 USD. The actual auction round will start on Tuesday, May 11, at 13:00 UTC and will last for 90 minutes.
Emrata sells herself as an NFT…to buy herself back
The American model and actress Emily Ratajkowski, also known as Emrata is preparing for the launch of her first book, titled My Body. According to the blurb advertising the book's pre-sale, her collection of essays is a deeply honest investigation of what it means to be a woman and a commodity:
My Body is a profoundly personal exploration of feminism, sexuality, and power, of men's treatment of women and women's rationalizations for accepting that treatment. These essays chronicle moments from Ratajkowski's life while investigating the culture's fetishization of girls and female beauty, its obsession with and contempt for women's sexuality, the perverse dynamics of the fashion and film industries, and the grey area between consent and abuse.
Accompanying the book's launch, Ratajkowski also auctions a unique NFT via Christie's, one of the world's most acclaimed auction houses, under the title Buying Myself Back: A Model for Redistribution, for which the bidding period is scheduled to start on May 14. On Twitter, the actress explains the meaning behind the piece:
Using the newly introduced medium of NFTs, I hope to symbolically set a precedent for women and ownership online, one that allows for women to have ongoing authority over their image and to receive rightful compensation for its usage and distribution.
This sounds more than contradictory though. After all, the idea of NFTs is to transfer full ownership to another person, who then has the right to proceed with the NFT as they see fit, for example by transferring the NFT to another person, publicly displaying the NFT, or even sending it to a burn address. It seems like not only Ratajkowski misunderstands how NFTs work, so do many of her followers on Twitter. Many comments under her Tweets refer to the false belief that NFTs contribute to climate change.
Empowerment can't come from a blockchain choking our atmosphere with carbon.

Whether it's your two lips or tulips, grifting is grifting & Christie's doesn't make it any less of a confidence scam of the idle rich with no regard for our future climate.https://t.co/LoP0fQev0u pic.twitter.com/lHkpp9wBZ6

— Fascism flattened, but never the webrant🕺——🕺 (@web_rant) April 26, 2021
NFT Fundraiser to free black Women from Jail
Commemorating Mother's Day 2021, the Free The 350 Bailfund wants to raise money by selling a series of exclusive NFTs. For this purpose, the NGO has teamed up with several abolitionist artists for the project #NFTs4Freedom.
The sale proceeds will be used to free black mothers from Dane County Jail, who are unable to post bail on their own. The collection contains two unique NFTs called šprūńg by airtime, and Eat the Pigs by Marieke. Additionally, there are three copies of My mother's mother by Julia Buskirk, as well as 10 copies of Anarchista by Marieke. The NFTs will be gradually auctioned on OpenSea until May 10, 17:00 UTC.
If folks haven't heard of "NFT"s (non fungible tokens), the definitely search YouTube for the SNL NFT skit/song. Long story short, NFTs are a way to sell one of a kind digital art and cryptocurrency folks are spending billions on them.

— Lil Guillotine (@litlGuillotine) April 25, 2021