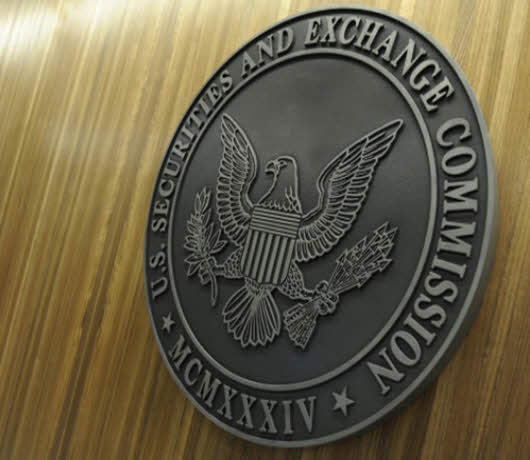 After a long period of reluctance, the SEC seems finally ready to take its place as the market regulator when it comes to cryptocurrency.
The US Securities and Exchange Commission (SEC) has recently confirmed to be more actively considering implementing a regulatory framework for cryptocurrency, ICOs, and any other activity relating to the industry. So far, the SEC has demonstrated a somewhat peculiar reluctance when it comes to regulating one of the world's most volatile markets, however, two new executive-level appointments by the regulating body could perhaps encourage the agency to become more involved in regulating the cryptocurrency industry.
Earlier this week the Chairman of the SEC, Jay Clayton delivered a statement regarding ICOs and cryptocurrencies. Clayton started by acknowledging that the industry was becoming increasingly popular, not only judging by social media platforms, but it has also started seeping into the financial mainstream industry. However, Clayton also issued caution regarding the industry's many tales of fortune and success, which promises users instant success.
Clayton addressed several individuals and professional mainstream investors. In his address, Clayton emphasized that the cryptocurrency industry offers very little for its investors in the way of protective measures, while at the same time the market is more volatile than most, and more vulnerable to market manipulation as well as fraud. In addition, Clayton told his audience that to date, the SEC has not registered a single ICO and that the SEC has never approved any listings for the purpose of trading.
Clayton also used the opportunity to explain the unique nature of cryptocurrencies, which makes regulation a significantly complex process. According to Clayton, due to the decentralized nature of cryptocurrencies, crypto funds are flowing across borders with more ease and convenience than ever before. This fact amplified the risk users face once they participate in the market. These risks, Clayton emphasized, cannot also be effectively addressed by market regulators such as the SEC.
However, Clayton also acknowledged the positive aspects of the industry. He referred to the unique and effective way ICOs allowed investors to raise startup capital. However, he also cautioned users on this score, referring specifically to previous Canadian ICOs that were found to be fraudulent.
Clayton also stressed to his audience that any individual selling a security, is required by law to have a license. He also emphasized that a market such as the cryptocurrency market which has demonstrated volatility as well as excessive trading activity, often fall victim to various scams in comparison to traditional markets.
When it came to cryptocurrencies, in particular, Clayton noted that the SEC would only have jurisdiction over registered securities firm and other market players that accept cryptocurrency-based payments, or who have previously created a framework for crypto investment, as well as those firms who provide clients with credit in order to invest in cryptocurrencies.
Clayton concluded by stating that cryptocurrency's underlying blockchain technology will transform life as we know it and enhance efficiency, despite it being disruptive during its infancy.
Shortly after Clayton address, the SEC issued an official press release.
The statement confirmed that the SEC intervened in an ICO, known as Munchee, a firm which sought to launch an iOS app which allows users to search and review restaurants in their area. The firm aimed to raise $15 million in the capital and also established a marketplace where users could buy and sell various goods and services using Munchee tokens. However, the firm was forced to refund all their investors before they could issue tokens.
The SEC's press release stated that the ICO contained several worrisome statements which place it n the agency's radar. The Munchee proposal stated that users would be rewarded for their reviews with propriety tokens and also sold restaurant advertisements. In addition, the secondary market and ambiguous statements regarding the firm's return on investment caused the SEC to intervene.
The SEC obliterated both the firm and its ICO campaign, however, the firm does not face further legal action. The SEC commended the firm for its quick cooperation.
According to the SEC, the proposal suggested that restaurants could write their own reviews, which would reward them, and mislead the public.
In addition to Clayton's appointment earlier this year, the SEC appointment Dalia Blass as its Director of the Division of Investment Management. Blass is well-known and liked amongst the crypto community as she was formerly employed at Ropes & Gray and gave counsel to the Winklevoss ETF venture. Blass is widely considered an ETF specialist.
Blass delivered her first address in her new capacity last week during the 2017 Securities Law Developments Conference. The Conference was hosted in Washington DC by the Investment Company Institute and had several prominent speakers such as Vanguard, the US Treasury, Schwab, Fidelity, T. Rowe Price, and Prudential.
Blass laid emphasis on two programs, the first would be tailored to investors, while the second would relate to funds. In terms of investors, Blass noted that her goal is to create a more transparent environment which would aid investors in their decision making. However, when it came to funds, Blass noted that she sought to create a framework wherein which fund boards can comply with both their responsibility to their investors, as well as increasingly complex regulation. Blass called for all professional to partner with her division in order to achieve this.
As a conclusion, Blass referred specifically to the cryptocurrency industry and noted that the SEC will be conducting its own investigation first as to several aspects of cryptocurrencies and ICOs before deciding to extend its regulation to certain campaigns and cryptocurrencies.
In their addresses, both Clayton and Blass issued a disclaimer which noted that their respective addresses were their own thoughts and feelings and not the official stance of the SEC.