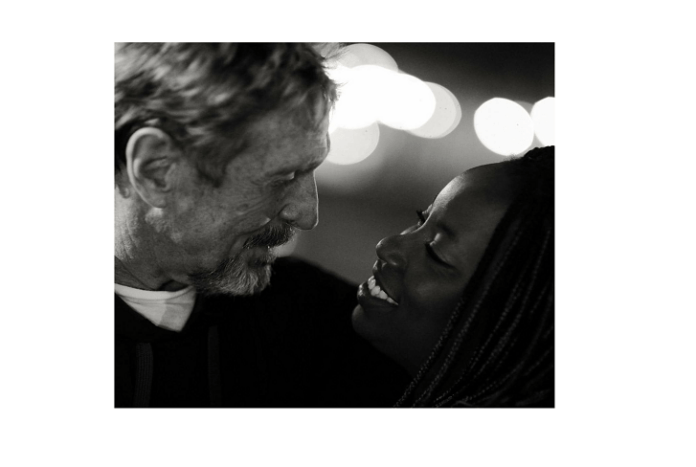 On any given day the average cryptocurrency user is exposed to at least one or two reminders of John McAfee and his controversial promise to dine on his own genitalia if Bitcoin doesn't skyrocket to $1,000,000.00 by 2020. This is just one example of a typical, provocative message you might find in the sea of equally offensive "McAfeeisms". While examining John McAfee's previous media appearances and various social media accounts, there is a clear and hilarious pattern. Whether he is bluntly opposing the ways of leading bank chairmen, or candidly confessing to his various mind-altering substance preferences, John McAfee appears to find joy in making his audience slightly uncomfortable.
In recent years the former security software giant has been stirring up a commotion in the growing crypto-community. McAfee has risen to a rare type of fame that grows from beyond the mainstream.
The epicenter of John McAfee's popularity lies somewhere in the obscure and rebellious heart of cryptocurrency. The magnitude of his opinion is remarkable too. This is a man whose single tweet on any given day of the week will gather hundreds of thousands of engagements- and often the analytics jump into the millions.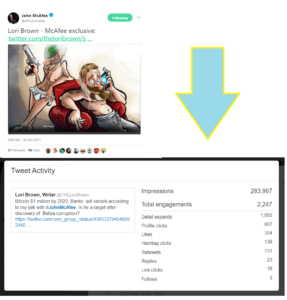 Along came Janice
It is a wild story that led to John meeting his wife but let us call it destiny that two rebellious souls collided the way that Mr. and Mrs. McAfee did. It happened over a cup of coffee, which was, for both of these remarkable people, an uncharacteristically normal first date. The simplicity of their social beverage was a strong contrast to the intensity of each of their circumstances. John was freshly deported from Guatemala after fleeing a corrupt Belizian nightmare, and Janice was dangerously trapped in a corrupt and abusive line of business. They found refuge in each other against all odds, and much like Bitcoin and blockchain technology, John and Janice McAfee symbolized the chance to live freely.
Keeping up with the McAfees
The McAfees are now leading the way for millions of people to experience the joys of bitcoin and other cryptocurrencies. This is why the love story of John and Janice McAfee matters.
CryptoCoin.News got an exclusive opportunity to ask both John & Janice McAfee a few questions in a candid and lighthearted setting. Enjoy!
A quick Q&A with The King of Crypto Misfits and his Queen
What's the first word that pops into your head when you think of your spouse, today?
Janice: Taxes
John: Taxes
Being surrounded by spotlights can wreak havoc on a person's nerves. How do you two manage to keep your cool, with all the attention?
Janice: We travel a lot, a change of scenery is always nice. We also go on dates, mostly to the movies and eat sushi.
John: I don't pay attention to the attention.
Recently, the cryptosphere has been harsh and full of impostors. What do you want to say to the shady scammers who impersonate people, like you, to steal or scam people? One sentence.
Janice: We are at war with a bigger enemy and they're doing nothing but diverting our community resources for their selfishness.
John: Our community is wising up and scammers will have no prey.
How do you say goodnight?
Janice: Do you love me today? Did you love me yesterday? Are you going to love me tomorrow?
John: With a kiss.
Who is quirkier?
Janice: John
John: Me
You both are gorgeous. Is it like a beauty parlor in the bathroom?
Janice: Our bathroom is a disaster, we rarely have time to clean.
John: Not that I've noticed.
For fun, what tabs are open on your current device?
Janice: My files, play store, calendar, Gmail, phone, messages, twitter, chrome and google drive.
John: I have 37 tabs open right now. You name it, it's open.
John McAfee and Janice McAfee are names that are growing in iconic light. Once the spotlight is off, and the day is over, what do you see in your spouse?
Janice: My everything.
John: My best friend and lover.
Any predictions for the ICO phenomenon?
Janice: It will continue to grow.
John: The quality and assurance will improve dramatically in the next year.
"All great advances in human culture are accompanied by strife and struggle."
John McAfee
As leaders of this modern era, what would you like to say to your audience? Say anything.
Janice: Please stop the infighting. We can't expect to achieve mass adoption if we're nitpicking each other over the methods each is using to bring awareness to the community. The governments and banks are doing everything within their power to stop this currency revolution. It's time to unite my crypto brothers and sisters.
John: All great advances in human culture are accompanied by strife and struggle. If you want to be on the front lines of this struggle, then you must be prepared to stand firm and to suffer for the greater gooD.
Afterthoughts: Does John McAfee struggle and suffer a little less than a common person, considering his rich lifestyle and bottomless wealth? Tell us what you think in the comments below.