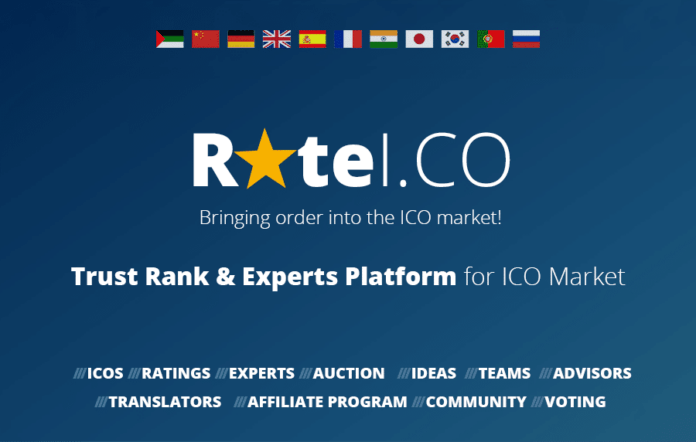 Ratei.co, are an ICO ratings platform based in Thailand, is currently conducting an initial coin offering (ICO) to fund its development.
The ICO started on 13 November 2017. Ratei.co's STR (star) token is a utility token available on the Ethereum blockchain. An ICO pre-sale took place during September 2017.
Ratei.CO aims to increase transparency around ICOs. The initiative is a platform for experts to analyse and rate ICOs. Potential ICO investors would use the Ratei.co platform to view projects using different parameters. At the time of writing, over 100 experts and around 310 ICOs were listed on the Ratei.co website.
While ICOs have quickly become a popular tool for funding new projects and start-ups, they can be extremely high-risk for investors because of their uncertain legal and financial status. In many ways, an ICO is more similar to a crowdfunding initiative based on cryptocurrencies rather than the traditional IPO.
Individuals who buy tokens may find that their purchase does not offer them security, equity or rights in return. Any investor thinking about ICOs needs to obtain all relevant independent advice and carry out their own appropriate due diligence. For the token purchaser, the ICO can be quite a speculative venture.
https://twitter.com/rateico/status/931915650280308736
According to the terms and conditions of their ICO, the Ratei.co STR token does not offer any security to the token purchaser. As a utility token, the STR token will allow token holders to participate in ICO project auctions and other services available on the platform. Experts and translators will also be paid in STR tokens. If the project is successful, a secondary market for the tokens may develop on cryptocurrency exchanges.


How does Rate.ico work?
According to the white paper, experts in IT, blockchain, business, finance and marketing would write a review of an ICO that analyses and rates the ICO to determine a "measure of trustworthiness". This rating considers the project's viability and is intended as a guide to assist investors. The reviews would be translated and made available in languages including Russian, Chinese, Spanish and Japanese.
ICOs would be rated using STR tokens with the number of stars indicating the ICO's position of the list. To move up the list, ICOs can also buy or accumulate additional tokens. Completed transactions on the Ratei.co platform would be recorded on the blockchain.
According to the roadmap, additional functionality will be added to allow new projects planning to launch ICOs to use the Rate.ico platform to find advisors and identify potential employees.
Ratei.co has a presence across many existing social media platforms and a team of advisors in place. Ratei.co is based in Thailand with company registration in the Cayman Islands.
https://twitter.com/rateico/status/934777233972928512

The white paper
The white paper outlines how the ratings process will work in broad terms. Experts will write a review and be paid a set fee using STR for their work. If a review is considered useful, this will earn the expert additional rewards. To minimise the risk of conflicts of interest, the reviews will be distributed by the Ratei.co team.
However, the parameters that will be used to rate ICOs are not detailed in the white paper. The roadmap indicates that these are currently in development. However, there are questions that the Ratei.co team may be considering but have not outlined the answers within the white paper. It's unclear from the white paper how and if the qualifications and experience of an expert will be verified.
While it is positive that Ratei.co has plans in place to minimise the risk of conflicts of interest, these processes will need to be both robust and transparent. For example, an expert who gets a bonus may have an incentive to write future ICO reviews that meet the criteria likely to earn the incentive. Also, if the platform is successful and attracts a large number of ICO projects, will it continue to be feasible for the Ratei.co team to check if experts have possible conflicts of interest and then distribute reviews to minimise these risks?
The Ratei.co ICO is expected to continue until early December 2017. The Rate.ico white paper is available here.