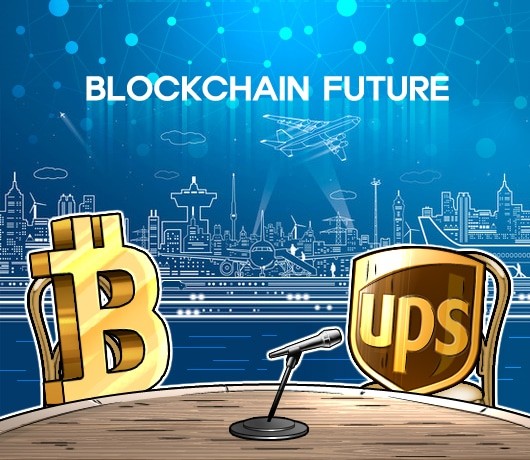 The popular American postal service, UPS, believes that blockchain technology can solve issues of accountability and cargo lost often faced in the industry.
The current economic system has been based on the idea of a trade. Since the days of goods trading, we simply replaced a goods-for-goods system into a goods-for-currency system, and since then the industry has been flourishing Statistics from the US freight and logistics department confirm that in 2015, shipping and logistics enjoyed a market worth of nearly $1.5 billion. As the world gradually migrates from physical shopping to the convenience of online shopping, this number is likely to increase.
However, the industry is fraught with many challenges which undermine its growth. Fraudulent shipping processes and lengthy and costly delivery times have rendered several users skeptical and has created the need for a more transparent process.
According to statistics from the FBI, cargo loss annually rakes up to an average of $30 billion per year in the US alone, while package and cargo theft has an annual average value of $190,000. Essentially, this means that consumers might incur charges up to 20% worth more than their actual package. The industry is not held accountable for its losses, despite the well-documentation of several issues of the industry.
However, the dawn of blockchain technology promises a solution which is more transparent and can offer consumers a more cost-effective and efficient way of logistics management, even on an international scale. Several startups have already started to work on feasible solutions, while major logistics and shipping companies have already invested their money and time resources in learning how to harness the latest technology.
The United Parcel Service (UPS), recently revealed that they joined the Blockchain in Transport Alliance (BiTA). This initiative seeks to implement blockchain technology to the freight industry while also educating the industry about the technology's many benefits. BiTA hopes to introduce a universal blockchain system which will create an industry that is more accountable and generally ramps up the standards of the industry.
Several companies across all industries have been rushing to be part of the blockchain revolution. UPS and its freight counterparts arguably want to establish themselves as key innovators in the field.
Blockchain will also the freight industry to develop a decentralized and autonomous ledger network, which is immune to single points of failure. In addition, the network will be maintained by a diverse network of computers, which means that the system will be immune to corruption or hacking. This will greatly enhance any system's security, while also creating an atmosphere of transparency.
Currently, the freight industry system is a complex and opaque one that often leads to exorbitant shipping costs and processes delayed by a complex labyrinth of paperwork.
By implementing blockchain technology, the system can become more secure, efficient and transparent. Once blockchain is successfully implemented, it will allow consumers a more transparent environment, while also encouraging competition in the industry.
According to UPS Director of Enterprise Architecture and Innovation, Linda Weakland, incorporating blockchain technology will have a profound ripple effect on the rest of the industry. The technology can be applied to all aspects of the industry, including customs brokerage, supply chains, payments, and insurance. In addition, the technology could enhance the transparency of several key players along the supply chain which includes supply chain stakeholders, shippers, vendors, carriers, consumers, and brokers.
For example, the industry could start using Ethereum's smart contract technology. Smart contracts execute themselves once the predetermined conditions are met. This will be particularly beneficial in the shipping escrow department as it limits the number of intermediaries required, which in turn, will lower the costs to the consumers.
In addition, blockchain has the power to enhance the transparency of the supply chain. Blockchain technology can allow shippers greater clarity over their own supply chain and can empower them to enhance communication as to their loads and geographical data. Once a shipment has been confirmed on the blockchain, the shipment and its details will become immune to any manipulation or fraud as to the shipment's details or validity.
Several startups and shipping companies all over the world have already gone to work to develop proofs of concept in order to test possible blockchain solutions. One company, in particular, ShipChain is already using blockchain technology in their firm.
ShipChain, which also forms part of BiTA, is also currently developing an integrated supply chain management network that will give a comprehensive overview of each step involved in the shipping process. The company also intends to create an open marketplace for carriers and shippers which will be based on a decentralized brokerage system. This will allow shippers to cut costs in the process.
Shippers will be able to track several aspects of a particular shipment, such as estimated delivery times based on each particular route, before confirming the shipment on the marketplace. In turn, this will also allow carriers to communicate more accurate delivery times with consumers, while also communicating with the shippers as to their own capacity. The entire process will become greatly enhanced in its efficiency.
In addition, the enhanced transparency will go great lengths in addressing issues of hacking, theft, and fraud which often occurs in the industry. Once information gets confirmed on the decentralized ledger, it becomes encrypted and immune to any alteration or tampering. This log will also be inaccessible to hackers.
However, the required technology is still in its infancy. A shipment from East Africa to Europe would require the approval of up to 30 separate parties, and by the time the shipment arrives in Europe, the process would have had over 200 interactions.
These interactions do not just include the carriers and shippers, but also include interactions between customers, regulators, wholesalers, and retailers. In addition, the blockchain network would require active input from its stakeholders in order to be validated.
The world's largest shipping container firm, Maersk, has already recognized the many benefits offered by blockchain technology and has partnered with IBM in order to create a blockchain network which tracks its shipments, and has in turn greatly reduced the amount of paperwork previously associated with international shipments.