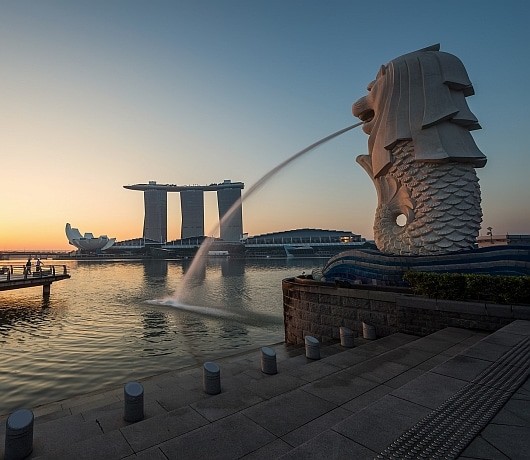 The island republic of Singapore will soon hold trial at the Singapore International Commercial Court (SICC) for a legal dispute between market makers B2C2 and Japan-based crypto currency exchange Quoine, over digital assets worth more than $45 million at time of writing.
According to national daily The Straits Times, B2C2 sued Quoine in May 2017, alleging that trades it had executed were wrongfully reversed, resulting in proceeds being deducted from its account. A summary judgment hearing on Tuesday saw B2C2 seek the recovery of 3,084 BTC (Bitcoins) from Quoine, claiming that the reversal was a breach of trust that ultimately "deprived it of the opportunity to sell the proceeds on the date of their highest intermediate value".
The actual trade took place on April 19, when B2C2 placed orders on the Quoine platform, selling Ethereum (ETH) at the rate of 10 Bitcoins. The orders were filled in a series of trades totalling some 309 ETH for 3,092 BTC, with Bitcoins credited to B2C2 accounts the following day.
However, Singapore-incorporated Quoine reversed the order, counter-claiming that the proceeds allegedly "misappropriated" from the account without authorization and that the trades were "mostly trades with huge mark-up over fair global market price". The average global market price on April 19 was about 0.0349 BTC per ETH, about 30 times lower than the order placed by B2C2.
The initial value of the lawsuit had been $3.78 million but with Bitcoin's extended bull run, this value has now surged to over $45 million. It is unclear yet, should B2C2 win, if the amount awarded will be in Bitcoin or in fiat.
It is not the first time that traders have successfully made incredible profits – and losses –  far above market rates, as a result of technical glitches on crypto currency platforms. In June, cryptocurrency exchange GDAX experienced a flash crash on its ETH orderbook, when the price dropped in seconds from $319 to 10 cents, with millions of dollars lost by traders.
Some exchanges have taken steps to prevent such occurrences. Bittrex, for example, introduced new limits last month, allowing only minimum trade sizes that are near 0.1% of the current price for every asset.