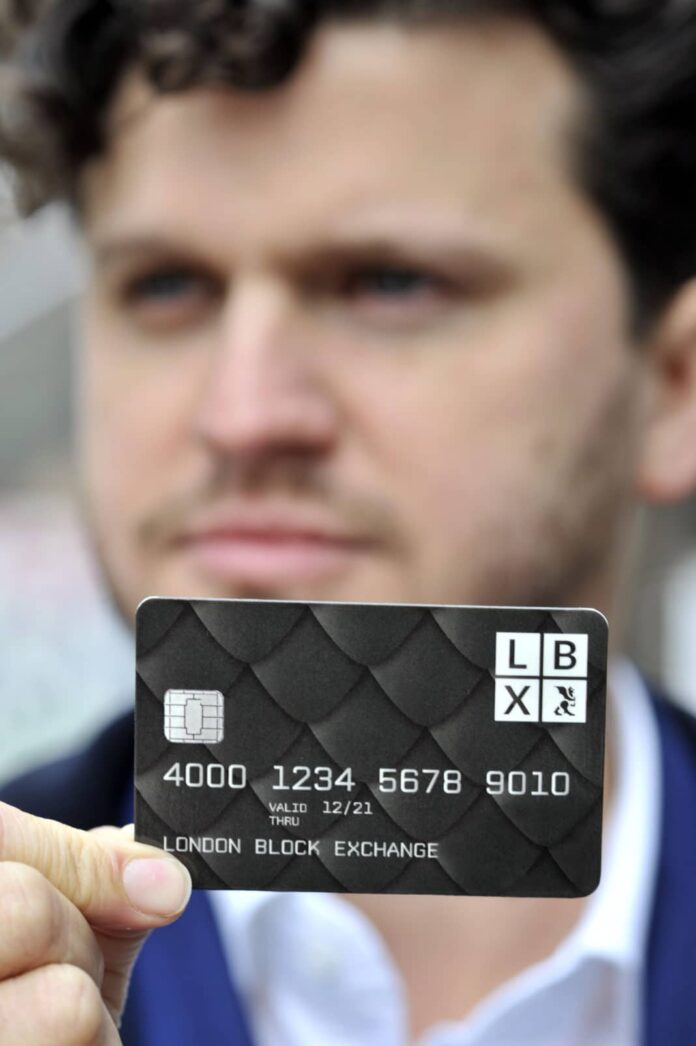 UK consumers will soon be able to spend cryptocurrencies such as Bitcoin in their local supermarket with a unique new cryptocurrency card.
November 2017 – London – The card is powered by a new cryptocurrency exchange – The London Block Exchange (LBX) – based in London and dedicated to the UK market. It is the first to offer Sterling to Crypto exchange across a broad range of digital currencies.
The platform will enable private and institutional investors to buy and sell cryptocurrencies using an intuitive and simple smartphone app and trading interface. Users will also be able to use a linked Visa card to spend crypto anywhere that card payments are accepted.
The LBX Dragoncard will be able to immediately perform a trade on the exchange and convert cryptocurrency into traditional funds in order to instantly purchase goods.
"If a shop accepts Visa, it now accepts Bitcoin, Ethereum, Litecoin or Ripple," said LBX Founder and CEO Benjamin Dives.
He said that the opening of a London exchange was a response to growing demand from consumers and institutions crying out for a professional and secure exchange.
"Despite being the financial capital of the world, London is a difficult place for investors to enter and trade in the cryptocurrency market. We'll bring it into the mainstream by removing the barriers to access, and by helping people understand and have confidence in what we believe is the future of money."
The exchange web site – www.londonblockexchange.com – went live today for public pre-registrations, while institutional investors will be added by private invitation. The trading platform will operate with a select number of institutions until 4th December, when it will opened more widely to the public. The founders say this control of customer flow will enable them to scale a highly robust and secure service.
Whilst the exchange's founders include cryptocurrency experts, its Executive Chairman, Adam Bryant is from traditional financial services, having run the macro hedge fund team for Credit Suisse and then UBS.
Cryptocurrencies are the fastest growing asset class in history, and despite scepticism from some banks and governments around the world, have seen huge gains. For example, Ethereum has risen nearly 30-fold since January (from around $10 to $300).
LBX will launch with five digital currencies – Bitcoin, Ethereum, Ripple, Litecoin and Monero. Additional credible cryptocurrencies will be added each month.
The platform and associated app is secured by the same systems that protect the UK's banking system whilst delivering a user experience on a par with some of the leading financial apps available. LBX is governed by strict anti-money laundering guidelines, complying with all UK bank requirements.
As well as trading functions, LBX will also launch with a host of educational material (LBX University) along with daily market news from experts offering insight for anyone from the 'crypto-curious' to the 'crypto-confident'. 
LBX Chairman Bryant added: "Cryptocurrency has come of age with LBX. We're offering a grown up and robust experience for those who wish to safely and easily understand and invest in digital currencies. We're confident we'll transform this market in the UK and will become the leading cryptocurrency and blockchain consultancy for institutional investors and consumers alike."