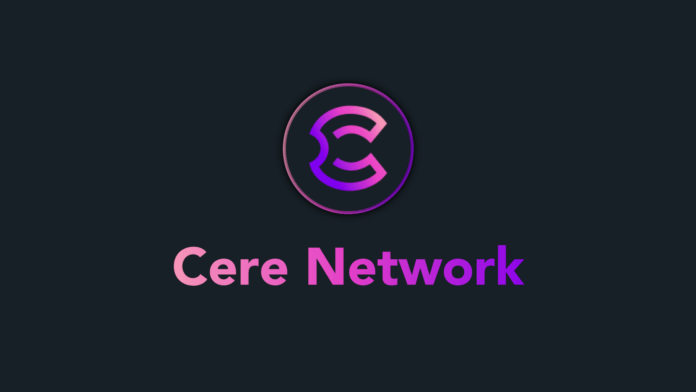 After Three Years Of Development And $41 Million Raised, Cere Network Advances Cloud Computing With Cere Decentralized Data Cloud, Open To Polkadot And Polygon Ecosystem Projects
DECEMBER 9, 2021, Berlin, Germany — Cere Network (Cere) today announced the launch of the Cere Decentralized Data Cloud (DDC), the first decentralized cloud computing platform. The Cere DDC platform uses blockchain identity and data encryption to power its consumer-first data ecosystem, as well as unlocking a new realm of busines-to-consumer Non-Fungible Token (NFT) utilities. Previously, Cere raised $41 Million from numerous investors across multiple rounds, including from Binance Labs, Arrington XRP Capital, Republic Labs, and Polygon, amongst others.
"Cere's Decentralized Data Cloud takes models like Snowflake's and makes it much easier for dApps to integrate with decentralized datasets,"said Sandeep Nailwal, Co-founder and COO of Polygon. "We have been working closely with the Cere team, and we are excited that developers, companies, and individuals in our ecosystem can leverage smart contracts deployed on Polygon to include trustless data transfers on top of value transfers via Cere's Decentralized Data Cloud."
Cere has built its own blockchain which provides the necessary security, trust, and utility to power the Cere Decentralized Data Cloud. As Cere's innovation stack extends Substrate components, it not only supports any Polkadot ecosystem blockchain, but can already be easily integrated with any other EVM-compatible blockchain such as Ethereum, Polygon, Cosmos, and Solana. This interoperable approach allows for cross-chain data and, more specifically, NFT-backed data assets to be transferred along with NFTs via smart contracts.
Next to its Decentralized Data Cloud, Cere is also releasing a set of innovative toolkits which can automate decentralized data into highly customizable and interoperable virtual datasets, which are directly accessible in near real-time by all business units, partners/vendors, and machine-learning processes. One of the biggest shortcomings in the NFT space is storing and accessing of NFT assets, which are prone for loss and damage by centralized storage vendors like Amazon Web Services. Cere Decentralized Data Cloud offers a reliable and inexpensive decentralized storage and accessing solution for NFT projects and marketplaces.
"As blockchain-based companies continue to see massive growth, it's imperative that decentralized teams and the companies they work with are able to leverage data that aren't behind walled-gardens," said Fred Jin, Co-founder of Cere Network. "We're very excited to be able to work with Polkadot and Polygon ecosystem projects to harness their datasets and take their businesses to the next iteration of what blockchain and cryptocurrency is to become – and that's mainstream adoption."
Find out more about Cere here: Cere.Network
ABOUT CERE NETWORK
Cere Network is the first Decentralized Data Cloud (DDC) platform built on Substrate and Polygon. Cere is the first Web3 infrastructure project that facilitates trustless cloud data storage, integration and data collaboration across blockchain networks as well as Web3 NFT, metaverse and gaming content.
Cere Network is founded by former executives from Amazon, Twitch, Huobi and Bebo. Cere is backed by Binance Labs, Republic Labs, Polygon, Arrington XRP Capital, and Fenbushi Capital, amongst others. The company is headquartered in Berlin, with offices in New York and San Francisco.