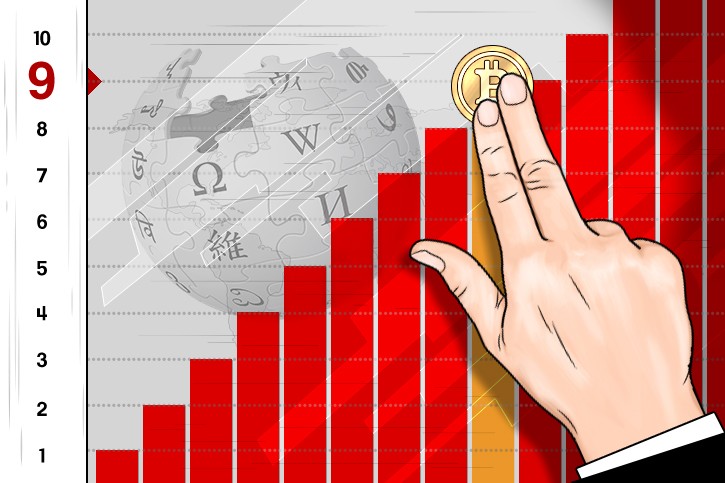 Last year, Wikipedia users were curious about what the popular information platform has to say about Bitcoin. Statistics show that the page dedicated to Bitcoin was the 9th most frequently visited page in 2017.
The increase in popularity of cryptocurrencies, and especially the increase in their prices, led to a wave of online searches about them. Inquiries regarding Bitcoin (BTC) in particular were especially high, with this word being one of the most searched words.
According to data from Google Trends, Bitcoin was also one of the most commonly searched topics on Wikipedia. The free encyclopedia that can be edited to provide educational information is available in 299 languages around the world. Recently, it published a report called "Annual Top 50 Report", in which a list of the 50 most popular articles in the last year was presented, and Bitcoin is on it.
Not only is Bitcoin present in the Top 50 Report, but the article that explains this cryptocurrency holds the 9th place on the list, according to data provided by Wiki. It is located just under the article regarding the United States, and above the show called "13 Reasons Why", a popular drama series on Netflix.
Besides these, there are other editorials in the same league as Bitcoin, and they include documentation of Game of Thrones, Donald Trump, and Queen Elizabeth II.
The introduction to the article includes the explanation about what Bitcoin is, and a short answer regarding the way it works and how it can be used.
Bitcoin is the future of money, claims Wiki senior editor
In 2017, there were over 15 million views of the Bitcoin article, and the most traffic was seen on December 8th. Wiki's Senior Editor wrote an introduction to Bitcoin, which he says is for readers who "can't make head nor tail of this novelty". He continues to say that Bitcoin is "as good as gold, shinier than lead, bubblier than tulips, held deep in the mines, and driving people nuts."
The page on Wiki titled 'User:west.andrew.g/popular pages' is home to 5,000 archived articles that are deemed most popular in the last week. Bitcoin has made this list as well, at the rank of 354.
The page contains raw data and displays articles that have at the very least 1,000 searches within a period of 7 days. After ranking them, only the most popular ones end up being published via this feed. Despite the fact that Bitcoin's rank is 354, it is still way more popular than the second biggest currency Ethereum, which is located at 3710th place. The article "Cryptocurrency" can be found at the 1273rd place, while Blockchain holds the 312th position on the list.
The data represents the popularity of cryptos, and it comes in its rawest form directly from the Wiki's content consumption statistics. It includes page views and dump files, which is the clearest way of detecting just how much interest people have in cryptos.