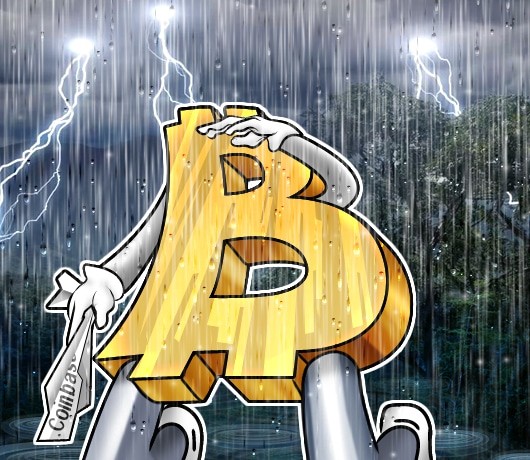 After experiencing its worst decline in a single day to levels almost touching a $10k floor, Bitcoin continues to face strong selling pressure, as reports emerge of insider trading and collusion related to crypto rivals Bitcoin Cash.
Bitcoin had initially shrugged off a week when Bitcoin futures started trading in the US and South Korean regulators introduced new regulations that restricted crypto currency trading in the East Asian nation. Both supposedly bearish news, they failed to affect prices as Bitcoin continued to trade at around $19,000 on December 19.
However, on the same day, digital asset exchange platform Coinbase made a surprising, sudden announcement to make available for trade alternative crypto currency Bitcoin Cash (BCH) – which led to a wild spurt of buying, and an almost immediate resulting crash of Bitcoin price.
Within hours, Coinbase had to suspend all trading of BCH, but by then a slump in Bitcoin's value and panicking sell-offs had been triggered. By Friday, December 22, Bitcoin had lost more than 40% of its value, at one point hovering below $11k, with most major altcoins following the same pattern of losses.
While the true reasons for this sudden bearish pattern of an otherwise famously volatile asset are still being debated, reports have now emerged of alleged insider trading and collusion by some heavyweight personalities in the crypto sphere – brought to attention because of the significant price movements in the early moments of BCH trading on Coinbase.
The controversy started when people noticed that even before the announcement, BCH price had begun to go up, and traded for as high as $8k on Coinbase's GDX as soon as it was available. Coinbase itself had promised earlier that all employees would be restricted from trading BCH for several weeks, so the accusations prompted an immediate internal investigation, with its CEO Brian Armstrong saying in his blog that:
"If we find evidence of any employee or contractor violating our policies — directly or indirectly — I will not hesitate to terminate the employee immediately and take appropriate legal action."
At the same time, notable crypto commentators such as WhalePanda reported that news network CNBC had begun broadcasting questionable Bitcoin Cash-related Tweets that appeared to detract from its usual objective tone.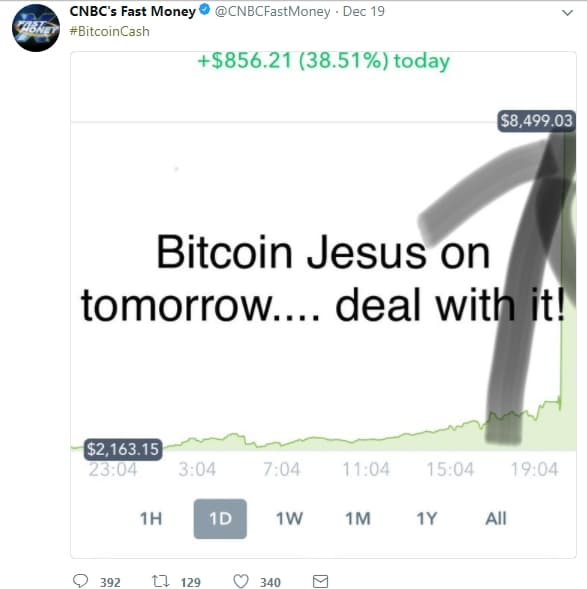 CNBC's Fast Money had earlier hosted self-styled "Bitcoin Jesus" Roger Ver, and it was later revealed that tweets were compiled under the auspices of marketing and partnership manager Gaby Wasensteiner, whose husband, Paul Wasensteiner, is executive director of the so-called 'Bitcoin Cash Fund' and host of an upcoming London Bitcoin Cash Meetup.
Ver, who is also Bitcoin.com CEO, has responded with typical nonchalance, saying on an interview with CNBC that "I think insider trading is a non-crime" and that the incident did not warrant further steps to regulating crypto currency exchanges. Ver is a long-time advocate of Bitcoin Cash and an open opponent of Bitcoin.
Keiser Report host, Max Keiser, was more sardonic, saying that CNBC had done no wrong, while taking a swipe at its credibility:
"Is CNBC culpable in promoting a scam? No, because they make no claims about veracity and integrity. The market is an amusing cockfight they cover – without journalistic standards – for bored hedge fund managers."
Whether or not these accusations turn out to be true, what is evident is that unregulated crypto currency markets are showing their vulnerability to insider trading – a point that pro-regulation governments are fond of bringing up.
Bitcoin, meanwhile, has shown some signs of recovery over the weekend, now returning to levels close to $13k, but the technical analysts will warn that a crypto winter is coming.