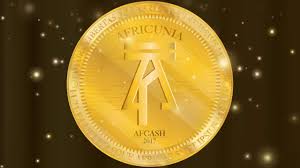 Africunia proposes an entire digital banking model, built on blockchain technology and financial investments. The aim of this African project is to offer the usual traditional banking services (and more), but via more technologically advanced methods. They propose a simple-to-use system. They intend to operate banks with no physical presence, and no geographical limitations. Africunia introduces a blockchain banking model improving ease of transactions, eliminating delay or errors.
Africunia in figures & quick facts
Token: Afcash Token
Token worth: $0.10 USD
Number of tokens: 10 Billion (1 Billion to be dispensed annually over a ten-year span)
Pre ICO starts: 1st December 2017
Pre ICO ends: 31st December (already over)
ICO starts: 1st January 2018
ICO ends: 28th February 2018
Afcash Token
Africunia is creating its own token called Afcash, based on Ethereum's ERC-20 standard. Afcash is going to serve as a medium of exchange like regular currencies. This digital currency owned by Africunia will ease banking transactions, as it forms a link between physical and digital financial transactions. While it has the primary aim of helping Fiat currencies in Africa, it would also serve as a bridge between Africa and the rest of the world.
Afcash can be bought during its ICO stage which opened on the 1st December and ends February 28th. After this period tokens can be withdrawn by investors from the ICO platform into their wallets.
You can buy with Bitcoin, Ethereum, Credit Card, Debit Card, or PayPal. You can pay directly into one of Africunia's bank accounts depending on your location.
The Revenue Sharing System: Annually, all holders of Afcash will share from 20% of the total profit generated by Africunia that year.
The Bounty Campaign:
To reward investors for creating public awareness. Africunia is offering 2% of the total tokens issued during the ICO.
These are the approved bounty campaign marketing platforms:
Facebook with 10% of bounty pool.
Twitter with 10% of bounty pool.
Instagram, YouTube, Google+, and Steemit with 10% of bounty pool.
Bitcoin Talk Signature campaign with 10% of bounty pool.
Bitcoin Talk Thread campaign with 15% of bounty pool.
Bitcoin Talk Translation campaign with 15% of bounty pool.
Bitcoin Thread Support / Bloggers Exclusive campaign with 30% of bounty pool.
Token Distribution
Public Contributors – 50%
Africunia Projects Development, Africunia Foundation, Africunia Social and Ecological Projects – 30%
Africunia Founders – 15%
Advisors, Partners – 3%
Bounty Campaigns – 2%
Team
Africunia's website lists five core executive members of the team, along with twelve staff ranging from marketers to programmers to legal advisers and more. Each department is well-equipped with staff who are well-trained and have at least a decade of experience in their respective fields.
Social media presence and digital footprint
Africunia has a low social media presence. Facebook appears to be where its social media presence is strongest, however, across other social networks its relatively weak. Below are their social media followers at the time of writing.
Twitter 123
Facebook 886
LinkedIn 35
Telegram 602
Instagram 371
YouTube 26
Early stages of ICOs oftne have a low social media following but more work needs to be done.
Competition
The idea of a cryptocurrency offered with a banking model is still an innovation in the cryptocurrency world, so Africunia could face little competition. However, near competitors would be those offering payment solutions. The indigenous continental perspective it is coming from is unique and may reflect positively on the ICO.
Website quality and layout
Africunia is professional and easy to navigate, with ICO, Roadmap, Technologies, The Team, Documents, Contacts, Register/Login hyperlinks on the home page linking to more detailed information. The website offers 13 languages.
White paper
The white paper is simple, yet professionally written. It is persuasive, on the other hand it lacks sufficient information about the future prospects of Afcash.
They provide other documents like a privacy policy, business prospectus, escrow details, and terms and conditions. This is commendable.
Advantages
The introduction of POS would be a great innovation in the cryptocurrency market.
Holders of Afcash share 20% of profit earned annually by Africunia.
It comes with a banking model and not just as another digital currency, thus, it would have a complete financial institution.
Disadvantage
They have low visibility.
Conclusion
Africunia offers both a banking model and a cryptocurrency to make banking transactions easier and faster. As a full digital bank, they would also render other banking transactions and services, such as crypto POS services.