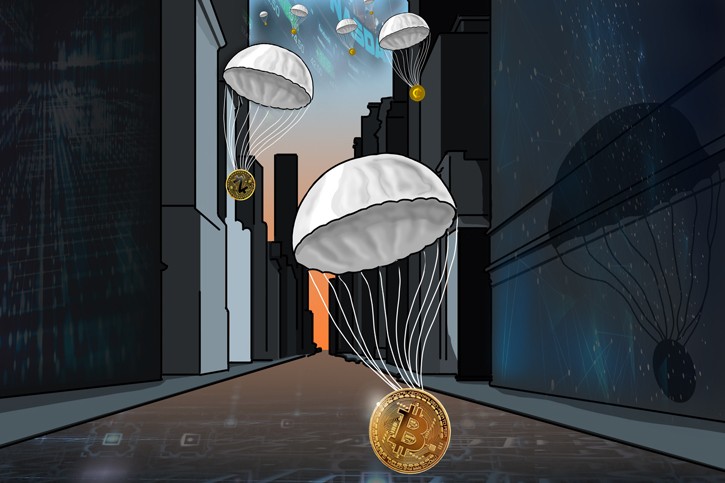 In the cryptocurrency world, Airdrop has a different meaning to when is used in the military, and specifically relates to gifts of tokens. Free crypto, yay!
What is an Airdrop?

A crypto Airdrop is the process in which tokens are distributed free of charge to users' wallets in a blockchain. It is usually carried out by start-up companies in the ICO stage as a way to promote their projects and make themselves known. 
Why do cryptocurrency Airdrops happen?

There are several reasons why projects use Airdrops. The most frequent are:

Marketing strategy: generally, companies use it to attract attention in its ICO stage, so that interested parties are encouraged to investigate and then invest in the token. These strategies are also implemented with the launch of new cryptocurrencies that result from a fork, such as Bitcoin Cash.
Loyalty rewards: an Airdrop uses wallets and cryptocurrency exchange sites to provide free tokens as a way to reward their customers and subscribers for being loyal to their platforms. A relevant case: in 2017 Binance gave 500 TRX to their members.

Decentralization: this helps from any point of view to any cryptocurrency platform and generates more security for the network and users. Example: OmiseGO distributed a large part of its tokens to Ethereum users.

Examples of successful airdrops
It is hard to define what constitutes a 'successful' airdrop, or to quantify its success. Nevertheless, let's have a look at some of the most notable airdrops to date.
ByteBall airdrop
ByteBall is a Directed Acyclic Graph, or DAG-based, cryptocurrency network that features two native currencies: bytes and blackbytes.
This ICO is notable because it launches airdrops to coincide with full moons.
ByteBall distributes its token via airdrops for users who hold Bitcoin in their wallets.
OmiseGo airdrop
OmiseGo is now an established Ethereum-based platform for peer-to-peer (P2P) value exchange.
But in 2017, it was just another startup ICO. Back in July 2017, OmiseGo launched a widely publicized, large-scale airdrop, where it distributed 5% of all its tokens to all Ethereum addresses that hold a balance over 0.1 ETH as of block 3988888. The airdrop took place exactly on July 7th 2017, 16:36:56 UTC.
Forks vs Airdrops
Airdrops are not to be confused with forks, another one of those terms with seemingly incongruous meanings.
Fork: A definition
Throughout its sometimes volatile history, Bitcoin has undergone changes and gone through forks which have heralded the inception of new currencies.
The term "fork" signifies a code change to a coin's underlying blockchain protocol. The new code might add new features, speed up the blockchain, or introduce other changes.
Forks can be hard or soft. During a hard fork event, a currency splits into two. This results in two versions of the same currency (old and new) coming into existence.
Hard forks are major changes to the blockchain protocol that underpins a currency, and are thus prone to create extreme market volatility.
A soft fork also means a split, but the difference is that only one currency remains afterwards.
The Bitcoin Cash fork of 2017
August 1, 2017, became etched in the history of Bitcoin as its offspring, Bitcoin Cash, was born.
A new currency came into existence that day, and any Bitcoin holders received the equivalent amount of Bitcoin Cash.
While this fact bears similarities with an Airdrop, as users received "free coins", it's not quite the same.
Airdrops are designed almost as marketing tools, to either generate interest, commercial leads, or simply maintain the buzz., while forks are major changes to a blockchain protocol, designed to split a currency.
Where to find free crypto Airdrops
There are pages in social networks, forums and applications that keep the community updated with relevant information that helps them select the most popular or current Airdrops.

One website that offers interesting and reliable information about Airdrops is AirdropAlert.com.
Of course, CryptoCoin.News also has a section dedicated to free crypto Airdrops, in cooperation with AirdropAlert.com.
Scam Airdrops
The attractiveness of Airdrops opens the doors to scams, so it is important to verify the information of an advertisement with the official page of its promoter. No project that has an Airdrop planned will request a private key, personal data or a transfer of funds to be eligible for the distribution of the tokens.
Conclusion
An Airdrop is a useful strategy in many ways; it has brought to the ecosystem a new way of capturing the public and spreading new cryptocurrencies. In addition, it has served the market to motivate users in new project investments and build loyalty in others. And last but not least, Airdrops can earn you some free money, the easy way!