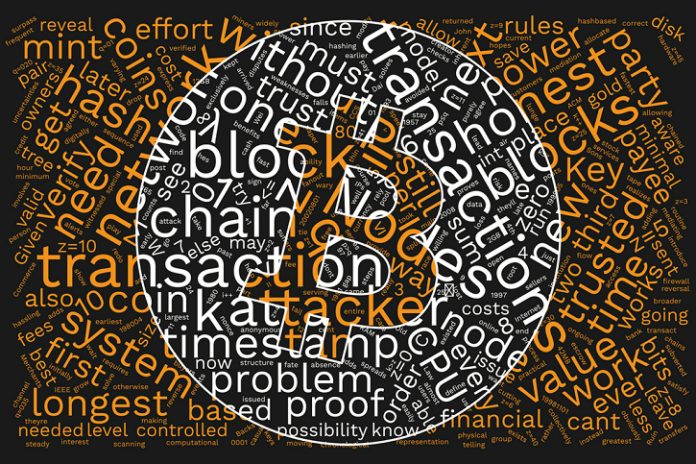 Sometime around May 20th, a mysterious image puzzle appeared on the Bitcoin subreddit, accompanied by a promise to reward whoever cracked it with 1 Bitcoin.
The image, posted by u/Cryptogreetings, contains a mix of numbers, words, symbols, and colors – all of which amount to the clues required to solve it. The words in the image relate to terms taken from the original Bitcoin whitepaper of Satoshi Nakamoto, with many users predicting that the answer may take the form of a 12 or 24-word seed phrase.
U/Cryptogreetings also left this message:
"This work is composed of the words from Satoshi Nakamoto's whitepaper, in logarithmic scale. The ideas that inspired Satoshi to create a solution that would revolutionize the modern economy and industry in a scattered manner. This paper reflects on the elements that gave life to this technology and challenges the underlying security model. Hidden in plain sight lies a treasure hunt. A BTC is hidden in this work."
In the last few days, Reddit users have been scrambling to crack the code, while others claim to be holding out until Bitcoin rises in value again before posting their solution.
So far, nobody has come up with the answer, leading the original poster to drop a few rather cryptic clues:
1. You can throw out at least half the words in the picture
2. Think in pairs
3.  Code easily, attack early
4.  Lost transaction costs almost users
5.  00212121
6.  Try +1
7.  Almost open
That didn't help us either.
This isn't the first time BTC has been hidden inside a coded image. In February of 2018 the puzzle termed 'The Legend of Satoshi Nakamoto' was finally solved after three long years of unsuccessful attempts.
The puzzle, which took the form of a painting inspired by William Shakespeare's The Phoenix and the Turtle, had 5 BTC attached to it and was eventually solved by a 30-year old programmer and his wife who were both puzzle enthusiasts.
The haul of 5 BTC was worth around $50,000 at the time of winning, a major increase from the original value when the puzzle was posted in 2015, when 1 BTC was worth just a few hundred dollars.
If the puzzle had been solved just a month or so earlier, the 5 BTC could have been worth $100,000, before the market took a nosedive around mid-January.
Where will Bitcoin be by the time this puzzle gets solved?