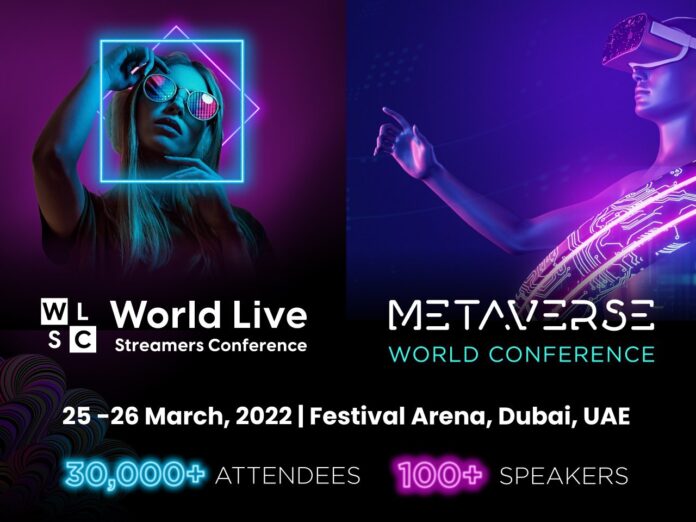 The year 2021 was deemed as the breakout year for cryptocurrency. During this time, the boom in NFTs and metaverses led to a $40B market and Bitcoin was able to reach an all-time high of $68,000. Not to mention, innovations like blockchain-based live streaming have emerged and taken the market by storm.
With these trends continuing to surge, 2022 is expected to be another trailblazing era for crypto developments.
That said, TNC IT Group, a Dubai-based blockchain company, is putting together two major conferences that will pave the way for the future of live streaming and metaverse. Called 'World Live Streamers Conference' and 'World Metaverse Conference', these two events will be simultaneously held at the Dubai Festival Arena on March 25-26, 2022.
Furthermore, over 30,000 attendees from all over the world and more than 500 speakers will grace the events. Indeed, the two conferences will cater to the brightest and most inquisitive minds of this age. In addition, participants can take advantage of networking opportunities in the global assembly.
In detail, the World Live Streamers Conference 2022 will gather international content creators to reinvent the future of live streaming. WLSC will include interesting keynote speeches and will require tickets upon entry.
On top of that, WLSC will host the launch of MeiTalk's Alpha version. MeiTalk is a multi-streaming platform that utilizes blockchain technology. It offers a slew of exciting features like AI-powered subtitling, real-time translations, location-based video recommendations, and more.
StreamCoin CEO Michael Ein Chaybeh, who happens to be one of the speakers at the conference, noted the significance of WLSC to content creators. He said, "At this event, content creators will get a chance to analyze their strategies and to develop exceptional content. Regardless of the genre, there is something for everyone out there."
Meanwhile, the World Metaverse Conference 2022 is set to bring in tech leaders to discuss the future of NFTs and metaverse. The event will mainly focus on navigating blockchain and crypto assets, regulatory advances in crypto, the institutionalization of the crypto market, and more.
Tickets are also required before entering, which are available on the event's website. Moreover, TNC IT Group Co-Founder and Executive Director Jason H Jang further commented, "At the World Metaverse Conference, content streamers can connect and explore exhibitions, build their network, and be a part of sessions that would help them grow. The event has been designed to be interactive, resourceful, and offers virtual conferencing as well for its online and remote attendees.
On the lighter side, conference participants also have the opportunity to witness entertaining shows, performances, and competitions. For the first time ever, WLSC and WMC will hold the 'MeiTalk Top 100 Influencers Award'. Here, a hundred content creators will be recognized for their talent in content creation on the night of March 25.
Adding to this, attendees are invited to watch a showcase of beauty and wit during the TNC Miss SuperTalent of the World Grand Finals 2022. In this beauty pageant, 37 models of different nationalities will vie for the ambassadorship title of MeiTalk. This event will take place on March 26.
With informative conference sessions, fun shows, and breathtaking acts such as Freestyle Football, CYR Wheel, and Fire Dance, the World Live Streamer Conference and World Metaverse Conference are poised to be one of the biggest events of the year.