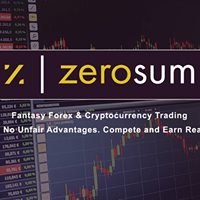 ZeroSum: Quick Fact Check
Token Name: ZFX
ICO Price of Token: 100 ZFX = 1$
ICO Start date: January 3, 2018
Closing date: January 17, 2018
Introduction
Gaming is an activity that draws millions of people in every day. Whether it is online gaming, tabletop/board gaming, casinos, etc., the industry is booming. Worldwide revenue derived from gaming activities reached a staggering $91bn in 2016, for example, so there is a very rich pie to tap into indeed.
Trading, too, it's a very exciting undertaking. Whether it's stock trading, sports cards, or any other tradeable commodity out there, traders carry out their business day in and day out.
But what if both concepts were to be combined into one single platform, and furthermore, a platform that allowed for decentralized, fantasy trading, that could be turned into real money while teaching the basic skills for real trading?
ZeroSum is pioneering such exciting endeavor through its own blockchain platform, allowing for no-fees, Peer-to-Peer (P2P) fantasy trading where participants take part in prediction-based Forex competitions and win ZeroSum-issued tokens, ZFX, which can then be converted into money if desired. Participants also acquire the knowledge and know-how of the trading world.
The platform, which has been live since 2016 and has about 1,000 active users, enables the creation of prediction-based competitions based on any possible outcome for which a live and reliable data feed exists.
The point of live data feeds is crucial, as these feeds give participants important insights into the current competition.
Fantasy trading, prediction games, and how ZeroSum enables competitors to hedge investments
Real trading, particularly stock trading, can be a daunting proposition that would deter most of us. Its intricacies, pitfalls, and risks, would be more than enough to make most people turn their attention elsewhere.
Yet, there are many people who would like to learn the business. But learning to trade for real is like being thrown into the deep end of the pool the first time. Chances are, you're going down.
Would-be traders can learn and hone their craft by practicing in the shallow end of the swimming pool and do Fantasy Trading for a while. There are plenty online platforms to do that. Then, move into the deeper end and trade for real.
ZeroSum's platform caters for this vital stepping and learning stone, allowing community members to participate in fantasy trading game in a P2P fashion before they move on to real trading.
ZeroSum's dedicated trading site is https://www.ZeroSummarkets.com/, which can be used to enter or create prediction-based competitions against peers, earn ZFX, and then exchange it for real money.
The platform doubles up as a financial hedging instrument that enables competitors to reduce their exposure to wider financial risks.
The Sentiment engine
Underpinning the entire ZeroSum platform is the Sentiment engine. This piece of technology lies at the heart of ZeroSum's pioneering proposition. The engine gathers data and information generated by users of the platform and the ZFX token, collates it, analyzes it through a proprietary algorithm, and ultimately rewards the participants for their trading activity.
The engine generates alpha signals that can attract further investment by third parties through ZFX. The sentiment technology includes a proprietary API that enables the connection of the engine to any existing software applications. These apps could leverage the ZeroSum technology and run their own competitions.
The ZFX token
ZeroSum's proprietary token, ZFX, is based on the Ethereum blockchain, and the ERC-20 standard.
It is important to highlight that ZFX will only be created during a single event, commencing January 3rd at 15:00 UTC.
ZFX is the only means for platform users to create or take part in competitions.
Conclusion
ZeroSum is a unique blockchain ecosystem where gaming, trading, and learning all come together to offer community participants an environment to have fun, learn, and make money in the process.
There's nothing else quite like it on the market right now, which puts ZeroSum in a very advantageous position to capitalize on its momentum. The platform has been running for over 12 months, so the expertise and the drive are already there.
Another day another podcast!https://t.co/G4CzP0BVOp#TokenSale

— ZFX Token (@ZeroSumMkts) January 5, 2018